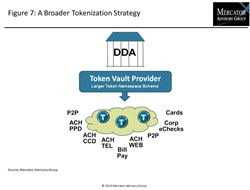 The need for the protection implemented by tokenization far exceeds the reach of any single payment implementation.
Boston, MA (PRWEB) May 21, 2015
A new research report from Mercator Advisory Group, Defining a Strategic Path for Banks Regarding EMV, Tokens, Apple Pay, and Mobile Apps, presents consumer research evidence for why most banks will adopt Apple Pay, forecasts m-commerce dollar volume out to 2025, and identifies the gaps that Apple Pay adoption creates, including the lack of ATM support and the inability to enable payments in the banks' existing mobile application. The report evaluates different approaches financial institutions can take to fill these gaps while also establishing a strategic plan that minimizes risk by establishing gap-filling relationships that may also offer a second-source supplier for mobile payments.
While banking institutions and other organizations are anxious to provide mobile payment capabilities to their most profitable customers, it is imperative they find the right strategic path in a difficult and highly complex mobile payment marketplace that is being targeted by multiple industries and large corporations within those industries. In particular, financial institutions must recognize that tokenization will span more than just card networks. The institution must consider a tokenization strategy that will protect the consumer's account number, not just the PAN, for all external communications, which includes person-to-person (P2P) payments, bill pay, ACH, and all other external interactions.
"The need for the protection implemented by tokenization far exceeds the reach of any single payment implementation, so financial institutions should consider this strategy that incorporates various payment mechanisms and suppliers under a broader tokenization scheme," comments Tim Sloane, VP, Payments Innovation, and author of report.
Highlights of the report include:

Data documenting U.S. consumer attitudes toward mobile payments and predicting volumes for mobile commerce
Documentation for the drawbacks and gaps associated with the current payment solutions offered by Apple and the nationally branded networks
Illustrated explanation of how various token-based mobile payments schemes work
Questions for financial institutions to ask when evaluating mobile payment solutions
Description of a broader tokenization scheme and identification of the payment mechanisms Mercator Advisory Group recommends FIs consider under such a scheme 
This report is 30 pages long and contains 8 exhibits.
Companies mentioned in this report include: American Express, Apple, AT&T, Chase, China UnionPay, Discover, EMVCo, FIS, Google, JCB, MasterCard, NACHA, Paydiant, PayPal, Samsung, Softcard, T-Mobile, Verizon, Visa, and Wells Fargo.
Members of Mercator Advisory Group's Emerging Technologies Advisory Service have access to this report as well as the upcoming research for the year ahead, presentations, analyst access, and other membership benefits.
Please visit us online at http://www.mercatoradvisorygroup.com.
For more information and media inquiries, please call Mercator Advisory Group's main line: (781) 419-1700
For free industry news, opinions, research, company information and more visit us at http://www.PaymentsJournal.com.
About Mercator Advisory Group
Mercator Advisory Group is the leading, independent research and advisory services firm exclusively focused on the payments and banking industries. We deliver pragmatic and timely research and advice designed to help our clients uncover the most lucrative opportunities to maximize revenue growth and contain costs. Our clients range from the world's largest payment issuers, acquirers, processors, merchants and associations to leading technology providers and investors. Mercator Advisory Group is also the publisher of the online payments and banking news and information portal PaymentsJournal.com.