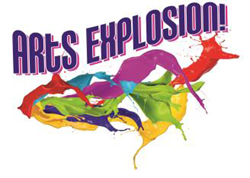 Duncan, OK (PRWEB) July 01, 2015
Chisholm Trail Arts Council is now taking enrollment for Art Explosion 2015. CTAC's annual weeklong summer arts classes are available to children, teens and adults. Arts Explosion will be held at the Stephens County Fairgrounds, July 13-17, 2015.
For over 20 years, Arts Explosion has catered to children and art during CTAC's annual summer camp. The children's classes are for students who have completed third, fourth, or fifth grades. Classes will begin each day at 8:30 a.m. and end at 12:20 p.m. daily. Students will have the opportunity to learn different art disciplines and art mediums that include: pottery, illustrating, collage, papier-mache', and acrylic painting.
Based on the success of the inaugural teen classes in 2014, classes for teens will again be a part of Arts Explosion 2015. Teens are students who have completed sixth grade and higher. Keep their creative artistic side working during the summer! Afternoon classes will be available Monday through Friday from 2:00-4:00. These classes are designed for teens who enjoy art and want to learn new mediums. Classes will provide students with more challenging projects in the mediums of sculpture, mosaic tiles and weaving.
Don't let the kids have all the fun! Be a kid again - get crazy and creative! Adult classes will include pottery on Monday, watercolor on Tuesday, and mosaic tiles on Wed/Thur.
On Friday, July 17th, there will be an arts showcase beginning at 5:30 p.m, open to the public. The showcase allows students and teachers to show their work to families and friends and then take home all of their art created during the week at Arts Explosion.
Registration forms are now available at http://www.chisholmtrailarts.com. Early registration for day classes, on or before July 10th, is $70. The fee will be $80 on the first day of camp - July 13. A limited amount of scholarships are available to students who qualify. All campers, under 18, must fill out and return registration and release forms in order to attend the camp.
For more information concerning Arts Explosion or any other CTAC program, please call the office at 580.252.4160 or email director(at)chisholmtrailarts(dot)com.
Arts Explosion is made possible through grants from the Oklahoma Arts Council and McCasland Foundation, and sponsorship from Tilley Group. Scholarships are provided through the generosity of donations of local businesses.