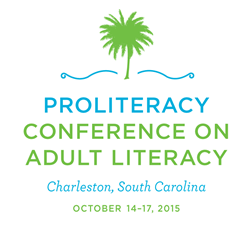 Low literacy has become such a serious problem in our country that 36 million adults are now unable to read a simple story to their children. It's important to understand the issues and confront the facts head on.
Syracuse, NY (PRWEB) May 22, 2015
ProLiteracy is pleased to announce that it will hold the biennial ProLiteracy Conference on Adult Literacy October 14 to 17 at the Charleston Convention Center, in Charleston, South Carolina. At this year's four-day conference, executive directors, instructors, volunteers, program managers, and board members from adult literacy programs around the country will discover new sustainability and fundraising strategies, learn how to implement dynamic programming, enhance their professional development and leadership skills, and engage with a diverse group of peers. Registration for the conference is now open.
ProLiteracy is a nonprofit organization that believes every adult has a right to literacy. For more than 50 years, it has been working with passionate people and organizations across the globe to create a world where every person can read and write. It develops and promotes adult literacy learning, content, and programs for adult learners, and advocates on their behalf. When individuals the world over learn how to read, the more likely they are to lift themselves out of poverty, contribute to improved health care costs, and find and keep sustainable employment.
Kevin Morgan, president and CEO of ProLiteracy says, "We are excited to hold our annual conference this year in the beautiful, historic city of Charleston. Our conference will have a focus on professional development, advocacy, and creating public awareness for adult literacy. Low literacy has become such a serious problem in our country that 36 million adults are now unable to read a simple story to their children. It's important to understand the issues and confront the facts head on. Only then can we stand together to fight for change."
In addition to more than 100 workshop sessions, ProLiteracy has put together an impressive list of keynote speakers to educate, entertain, and inspire the conference attendees.
Dan Pallotta is a builder of movements. He invented the multi-day charitable event industry. He created the Breast Cancer 3-Day walks and the multi-day AIDS Rides, which raised more than a half a billion dollars in nine years. The model and methods he created are now employed by dozens of charities and raise more than $100 million annually. Pallotta is also the author of Uncharitable: How Restraints on Nonprofits Undermine Their Potential, and Charity Case: How the Nonprofit Community Can Stand Up for Itself and Really Change the World. He is the founder and president of the Charity Defense Council, a national leadership movement dedicated to transforming the way the donating public thinks about charity and change. He is also the Founder and Chief Humanity Officer of Advertising for Humanity, a full-service brand and inspiration agency for the humanitarian sector.
According to Pallotta, "The economic starvation of our nonprofits is why we are not moving the needle on great social problems. The nonprofit sector is critical to our dream of changing the world. Yet there is no greater injustice than the double standard that exists between the for-profit and nonprofit sectors. One gets to feast on marketing, risk taking, capital and financial incentive, the other is sentenced to begging."
Dan is a featured weekly contributor to the Harvard Business Review Online. His iconic 2013 TED talk has been viewed more than 3 million times and is one of the 100 most-viewed TED talks of all time.
Craig J. Boykin is a renowned keynote speaker, author, entrepreneur, business coach, and inspirational leader. Boykin has risen to national prominence by delivering a high-energy message that tells people how to shake off mediocrity and live up to greatness. He transformed his adversities into methods that motivate millions with his amazing story of going from GED to PhD. Boykin's personal mission is to communicate that nothing can stop you once you make the decision to achieve your dreams. Boykin published his first book, My Life, Your Inspiration, in 2013 and travels the country presenting his seminar "Make Life Count." He has won various awards, and his story has been shared in many inspirational and motivational magazines.
Azar Nafisi is the critically acclaimed author of Reading Lolita in Tehran, a long-running No. 1 New York Times bestseller published in 32 languages, and Things I've Been Silent About, also a New York Times bestseller. Nafisi is involved in the promotion of literacy and reading books with universal literary value. In 2011, she was awarded the Cristóbal Gabarrón Foundation International Thought and Humanities Award for her "determined and courageous defense of human values in Iran and her efforts to create awareness through literature about the situation women face in Islamic society."
About ProLiteracy
ProLiteracy believes every adult has the right to literacy. ProLiteracy, the largest adult literacy and basic education membership organization in the nation, is committed to creating a world in which all adults are literate. ProLiteracy has 1,000 member programs in all 50 states and the District of Columbia and works with 52 nongovernmental organizations in 34 developing countries.
For more information about ProLiteracy, please visit http://www.proliteracy.org
Additional Information
The U.S. loses billions of dollars every year because of low productivity in the workforce, high unemployment rates, Medicaid costs, the cost of food stamps, and expenses associated with providing subsidized housing. Millions of adults living in the U.S. struggle with basic literacy skills. In the U.S., 14 percent of adults over 16 read below a fifth grade level, and 29 percent read at only an eighth grade level. Among those with the lowest literacy rates, 43 percent live in poverty.