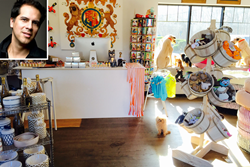 The Hamptons Summer beach life for a dog requires extra grooming and more accessible Veterinary care.
(PRWEB) May 22, 2015
Health Beauty and Wellness for the summer begins on Memorial Day Weekend and that does not exclude your dog.
Beauty and Wellness expert Edward Alava of the Dog Store and Veterinarian Dr. Cindy Bressler team up to bring a full service one stop shop for everything your dog needs inside and out at the grand opening of the dog store in Wainscott and The Hamptons first Pop-Up Doc clinic this Friday May 22.
Manhattan's well-known Upper East Side luxury dog boutique and grooming salon, The Dog Store, is opening in Wainscott New York this Memorial Day weekend.
The DOG Store has earned its reputation as the top grooming salon & high-end dog boutique on the Upper East Side. Since its inception in 2009, the dog store has since transformed into a lavish, multi-faceted highly in-demand boutique frequented by A-list celebrities and Park Avenue's socialites.
The same clientele already knows NYC and Hamptons Veterinarian, Dr. Cindy Bressler, for her Summer Hamptons House Call Practice for the past 13 years. Dr Bressler will be the Hamptons "Pop-Up Doc" the first ever veterinary service of its kind in the Hamptons.
As Thousands of Dogs visit the Hamptons every summer and there is an increasing need for quick trips and after hour visits to the Vet. Dr Bressler has been to provide emergency care to Hamptons Dogs especially during the evening hours after the other Veterinarians close.
The Hamptons summer life for a dog requires extra grooming. Long beach days, sand, salt water and rustic terrain add up to a need for more accessible grooming and Vet care.
"My clients have been asking me to open a Hamptons outpost for years" explained Edward Alava, owner of the Dog Store. "I'm excited that we can finally bring them all we have to offer and more during the summer months.
Along the same lines there is a strong need for more accessible Vet care.
"The nearest Emergency Clinic is over an hour away which is often too long if emergencies arise." said Dr Bressler, "I will be available to see patients directly at the store on Thursday, Friday, Saturday and Sunday evenings from 5-8 pm.
She will be seeing patients through her mobile house call practice at all other times. Exams may be booked by calling or texting Dr Bressler at 631-255-8556.
Travelers seeking international health certificates will also be able to obtain them by scheduling a visit with Dr Bressler.
The Dog store and the Pop-Up Doc will hold its grand opening on Sunday May 24 at he dog store in Wainscott. The first anniversary issue of the Hamptons Dog Magazine published by celebrity dog trainer Lisa Hartman will be available at the event. Pets are encouraged to bring their owners.