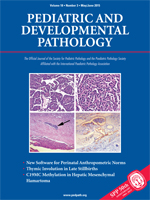 This program furthers our ability to provide the best and most accurate information to parents who have lost an infant and to clinicians who seek to prevent stillbirth, improve pregnancy and infant outcomes, and reduce recurrence risks
(PRWEB) May 22, 2015
Pediatric and Developmental Pathology – After the death of an infant, a thorough postmortem examination can provide needed answers. Fetal and infant autopsy can yield information about the cause of death and risk of recurrence in future pregnancies. It may also provide closure to grieving parents.
An article in the new issue of Pediatric and Developmental Pathology introduces new software designed to assist pathologists through the process of infant autopsies. Using the computer program can save time, make reference materials easily accessible, and improve the quality of perinatal autopsy reports.
While many fetal and infant autopsies are performed by pathologists who are subspecialty trained in pediatric pathology, a significant number are performed by general pathologists or trainees. For these pathologists, the process can be intimidating and time consuming. The most challenging aspects are appropriate assessments of fetal and neonatal growth parameters and maturational features.
With this software, pathologists can enter infant weight and measurements and organ weights. The program generates a table that creates the best estimate for the infant's corrected gestational age and highlights any value that falls out of normal range.
To put this new software to the test, pathology residents examined it for ease of usage and benefits. Using conventional methods, such as books and Internet research, to access data on infant gestational age norms, the average time for novice and experienced residents to access needed data was 26.7 and 15 minutes, respectively. Using features of the new software, this time was reduced to an average of 3.2 minutes.
This software is available at: http://cainmd.github.io/anthropometryData. It is free to use and offers secure data entry. The program was created by Matthew D. Cain, M.D., University of Alabama at Birmingham (UAB) pathology trainee, with oversight by Ona M. Faye-Petersen, M.D., UAB professor of Pathology and Obstetrics and Gynecology, and Joseph Siebert, Ph.D., professor of pathology at Seattle Children's Hospital.
"This program furthers our ability to provide the best and most accurate information to parents who have lost an infant and to clinicians who seek to prevent stillbirth, improve pregnancy and infant outcomes, and reduce recurrence risks," Faye-Petersen said. "These goals have long been my passion."
Full text of "Development of Novel Software to Generate Anthropometric Norms at Perinatal Autopsy," Pediatric and Developmental Pathology, Vol. 18, No. 3, 2015, is now available
###
About Pediatric and Developmental Pathology
Pediatric and Developmental Pathology is the premier journal dealing with the pathology of disease from conception through adolescence. It covers the spectrum of disorders developing in-utero (including embryology, placentology, and teratology), gestational and perinatal diseases, and all diseases of childhood. For more information about the journal or society, please visit: http://www.pedpath.org.