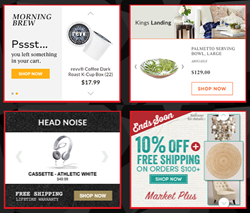 "No advertiser wants to go through the hassle of integrating a third party recommendation engine and they definitely don't have the time to do all the set up work associated with it," said Marwan Soghaier, SteelHouse's Chief Officer.
Los Angeles, CA (PRWEB) May 21, 2015
SteelHouse (http://www.SteelHouse.com) continues to enhance its end-to-end marketing platform with the release of dynamic product recommendations in their display ads. SteelHouse now gives advertisers the ability to seamlessly deploy true product recommendations – all from one platform – with no additional effort, cost, or integration. Product recommendations can be based on user behavior, location, brand or category parameters, giving advertisers even more control to easily serve the most relevant ads.
"No advertiser wants to go through the hassle of integrating a third party recommendation engine with their marketing platform. And they definitely don't have the time to do all the set up work associated with it," said Marwan Soghaier, SteelHouse's Chief Product Officer. "Dynamic recommendations are made possible by our ability to gather and use real time data to fuel our ads, something that is at the core of our innovation."
For more news on SteelHouse ad features: http://www.steelhouse.com/a2