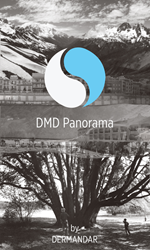 Windows Phone devices are becoming more popular than iPhones in major European countries. By launching "DMD Panorama" on Windows Phone Store, DerManDar is strengthening its panoramic platform to become the Instagram for Wide Pictures.
Beirut (PRWEB) May 22, 2015
DerManDar, the leading start-up in panoramic technology, today announced the release of its flagship app, "DMD Panorama" on Windows Phone Store. This award-winning app was initially launched in June 2011 on Apple's App Store and has already amassed 10M+ downloads worldwide so far.
"DMD Panorama" is a fully automated app for creating, viewing and sharing seamless panoramas instantly. By tapping the screen to take the first picture, than moving steadily the device in any direction, the on-screen Yin and Yang symbols meet and a picture is taken automatically. The resulting panoramic photo can be shared on social media or saved on the device's camera roll.
DerManDar's mobile apps (initially iOS and Android) and web tools have been fueling its social panoramic platform for the past 3 years. By adding Windows Phone support, DerManDar is opening its panoramic platform to a wider audience.
Although 'DMD Panorama' was initially created for personal use, it can also be used for business purpose. It is an efficient tool for realtors, museums, and touristic sites since it makes virtual tours creation easier.
"DMD Panorama" is available for free on Windows Phone Store, Apple's App Store and Google Play Store.