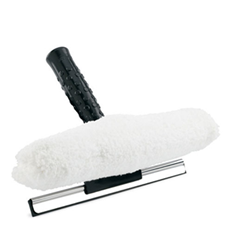 Arcola, Ill. (PRWEB) May 21, 2015
Long winters like this past one can wreak havoc on a home's outdoor areas – from the grime and dirt that accumulates onto patio furniture to the mud and debris that litters the driveway and garage. With the relief of another winter endured is the drudgery of getting the yard and house in shape for warmer weather. The Libman Company, a 119 year-old American manufacturer of cleaning products offers a variety of cleaning products, including many from the company's commercial line, that can quickly whip your outdoor spaces into shape, just in time for summer entertaining season:
18" Multi-Surface Push Broom (Product #00824)
Sweep up debris that's collected in your garage or driveway with this multi-surface push broom that's designed for household and commercial applications. The firm and flexible tip fibers are made to clean and protect any surfaces, such as concrete, brick, wood, stone and more. Standard threaded handle with hex nut and locking bolt to prevent twisting.
Suggested retail price: $23.99
2 in 1 Window Washer (Product #00194)
This squeegee blade and washer combo enables you to clean windows easily and efficiently. The machine-washable and reusable premium microfiber cleaning pad is specially designed to loosen and pick up tough dirt off of windows and can be used to wash or dry. Made of light-weight, durable aluminum.
Suggested retail price: $11.99
Cotton Deck Mop (Product #00977)
Give your deck a thorough cleaning with this traditional cut-end, yarn style deck mop. It's an economical option for general cleaning. Works well wringing out by hand or with a wringer bucket attachment such as the 4-gallon Bucket with Wringer.
Suggested retail price: $10.99
4-gallon Bucket with Wringer (Product #01056)
This 4 gallon bucket is excellent for cotton wet mops that do not have an attached wringer, such as the Cotton Deck Mop. It includes a convenient wringer that snaps in and out as needed. It is virtually two buckets in one with one side for clean water and another side for dirty water.
Suggested retail price: $21.99
12-pack Shop Towels (Product #00591)
Wipe down patio furniture, wash the exterior of your car and other items affected by the long winter with these 13" x 17" pre-washed industrial utility towels. The shop towels are made of 100% cotton and are reusable and machine washable.
Suggested retail price: $6.99
Heavy Duty Scrub Brush (Product #00513)
Clean your car tires or scrub oil stains from your garage floor with this brush made of 80% recycled PET plastic bristles. An optional handle is sold separately to let you clean in low areas so you don't have to bend. The flexible fibers make the brush versatile so it can be used on various applications.
Suggested retail price: $4.99
Extra-long Handle Barbecue Brush with Scraper (Product #00528)
Was your grill in hibernation over the winter? No problem. Scrub and scrape off those baked on bits and grease so it's ready for your next backyard barbecue. Even if you use your grill year-round, this brass grill brush is a great tool to have on hand. The product is 19" long and has an ergonomically-designed grooved handle with a steel scraper and a convenient hanger hook.
Suggested retail price: $7.99
Libman products are sold online as well as at national retailers across the country including WalMart, Kroger, Home Depot, Target, Lowe's and Menards. To check out more of Libman's cleaning product offering, visit http://www.libman.com.
About The Libman Company
The Libman Company is a family-owned company that has been making quality cleaning tools since 1896. The company manufactures products from brooms and mops to more specialized tools for kitchen and bathroom cleaning and industrial uses. Libman proudly manufactures most of their products in the United States, including the company's well-known Tornado® Mop. For more information about the Libman Company, please visit http://www.libman.com.
# # #