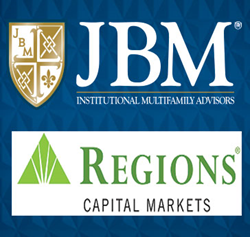 Tampa, FL (PRWEB) May 26, 2015
Beginning in May, 2015, the elite JBM® brokerage platform has evolved to include capital market facilitation and execution through an exclusive partnership with the expanding multifamily arm of the Regions Capital Markets group.
With the partnership between JBM® and Regions Capital Markets, the resulting full service brokerage and financing group can provide the highest quality services and financing options to clients seeking the absolute highest standards in multifamily transactional and financial services.
Heading up the newly formed partnership is Mr. Russell Phillips, Vice President. Mr. Phillips has been with Regions Real Estate Banking for ten years and joined Regions Capital Markets in January, 2015. He immediately sought a key relationship in which to most effectively expand their portfolio while providing the greatest service possible to clients with the financing needs of multifamily assets and portfolios. Mr. Phillips is responsible for originating and recapitalization of fixed and variable rate products including agency (Fannie Mae, Freddie Mac), HUD, CMBS and large bridge loans.
JBM® Institutional Multifamily Advisors is the most reliable source of brokerage services in the institutional multifamily asset and investment industry with Florida offices in Tampa, Orlando, and Naples. JBM® specializes in the sale of high-rise, mid-rise and garden style apartment communities throughout the Southeast United States and focuses exclusively on asset disposition services, capitalization and recapitalization of existing and merchant development opportunities of large multifamily portfolios and singular assets for Domestic and Foreign Institutional, Private National and Regional clientele. The firm's collective team efforts have exceeded $9 Billion and over 110,000 apartment units listed, marketed and sold. The firm delivers a strong legacy of excellence in representation and the most effective investment sales platform throughout the Southeast United States, meriting Jamie May and JBM® as a trusted leader in the multifamily industry.
Please contact Russell Phillips or Jamie May for additional information and begin the disposition, acquisition or financing protocols with the highest quality service providers that have a legacy of excellence in effectively facilitating the needs of the most discerning clients in the multifamily industry.