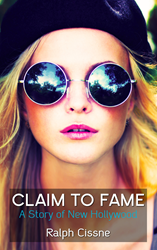 "If you make a living selling yourself in Hollywood," Sid confesses. "You've earned the right to be eccentric."
Oklahoma City, OK (PRWEB) May 27, 2015
Ralph Cissne's Claim to Fame: A Story of New Hollywood takes humorous turns through the enterprising life of a dedicated fitness professional. The story is available exclusively on Amazon Kindle.
Personal trainer to the stars Sid Sherwood is passionate about helping people reach their goals. The aspirations of two quirky new clients, the fresh-faced starlet Jules Marlow and fallen star Clay Harmon, challenge Sid's disciplined approach. "If you make a living selling yourself in Hollywood," Sid confesses. "You've earned the right to be eccentric." As the story unfolds, the generation gap between new and old Hollywood converges to blur the lines of Sid's professional boundaries in amusing and surprising ways.
"I met the enterprising exercise physiologist from Oklahoma who inspired this story one day on the Sunset Strip," Cissne said. "We shared a passion for health and fitness and became friends. Over the years that followed he confided many outrageous experiences working with A-list stars and celebrity clients. His balanced approach produced Oscar worthy results, but they rarely acknowledge personal trainers. Everyone wants to look like they were born that way."
A native Californian, Cissne grew up in Oklahoma where he developed interests in creative writing, golf and Zen meditation. His short story publications include Claim to Fame, Prudence in Hollywood (Playboy), and The Reunion of Last Resort (American Way). As a creative strategist Cissne has helped build many leading fitness industry brands including StairMaster Sports/Medical Products, American Service Finance, MYE Entertainment and Sportsmith. The author of Will of Golf, Mastering the Mind-Body Connection, Cissne has written countless articles on fitness, yoga and golf performance. He graduated with a Bachelor of Arts from The University of Oklahoma School of Journalism. For more, visit http://www.MorganRoad.com/publishing.