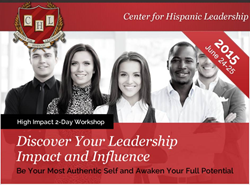 95% of non-Hispanic managers and supervisors are unaware just how much cultural values influence the natural ways Hispanics think, act and perform as leaders
Irvine, California (PRWEB) May 25, 2015
On June 24-25, 2015, in Minneapolis, Minn., the University of St. Thomas will be hosting, "Discover Your Leadership Impact and Influence," the Center for Hispanic Leadership (CHL) flagship workshop program for Hispanic professionals. Target is sponsoring the high-impact two-day event, which is set to be facilitated by Glenn Llopis, a nationally recognized thought leader, best-selling author and contributing writer to Forbes, Harvard Business Review and the Huffington Post.
"Our research at CHL reveals that 95% of non-Hispanic managers and supervisors are unaware just how much cultural values influence the natural ways Hispanics think, act and perform as leaders," explains Llopis. "This helps to explain the Hispanic identity crisis in the workplace and why Hispanics are only performing at 40% of their full potential. Faced with an identity crisis at work, Hispanics find it difficult to be their most authentic selves and this impacts everything from their ability to perform at their highest levels to their lack of advancement into more senior leadership roles."
During the workshop, Llopis teaches participants four critical skills and six characteristics to reach their full potential in the workplace and in their careers. His intimate but intense workshop experience combines real-world workplace scenarios with "gamification" techniques to test and improve one's ability to authentically and effectively make decisions, as well as enable the full potential in others and the most promising opportunities.
"At Target, we are committed to inclusivity, which we believe is every bit as influential as innovation, agility or our determination to grow," said Caroline Wanga, director, Diversity and Inclusion, Target. "Target is at its best when we provide a workplace and shopping environment where people feel welcome, at home and inspired to participate fully. Organizations like CHL help us continue to unlock the power and potential of our Hispanic team members, so we proudly invest in sponsorships like this one, as it is the right thing to do for our guests, our team members and society."
In addition to Target, prior CHL workshop participants have included leaders from Coca-Cola, Home Depot, PepsiCo, Walmart, and other Fortune 500 clients. They have described CHL's intensive two-day workshop – which teaches Hispanic professionals how to be high performance leaders through group-think situational analyses, case studies and personal branding exercises – as "transformational," "eye-opening," and "awakening," and have given it a 100% approval rating.
"The Opus College of Business at the University of St. Thomas is very pleased to again host this workshop. I've heard wonderful things from last year's participants, especially how invaluable the training was for their career development. This is a community we are particularly proud to serve," says Steve Humerickhouse, executive director of The Forum on Workplace Inclusion at the College of Business.
As Latinos continue their ascent as the fastest growing workforce in the U.S., the exclusive curriculum developed by CHL addresses the urgent need for culturally-relevant education and training that can help increase their performance levels, accelerate their advancement in the workplace, and build a talent and leadership pipeline for the future.
For more information about how to attend the workshop and/or sponsorship opportunities for your corporation, please contact Vice President of Client Relations, Annette Prieto-Llopis at APrieto(at)centerforhispanicleadership(dot)com or at 949-387-2609.