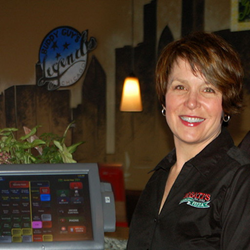 Repeat Returns engages customers based on every transaction in the Arrow POS including mobile orders. This is a game-changer for restaurant owners.
Crown Point, Indiana —
(PRWEB) May 26, 2015 -- Leading point of sale software provider ArrowPOS, Inc. has announced an agreement with the Rosati's Pizza chain to provide its enhanced software at the chain's 140 locations nationwide.
According to ArrowPOS chief executive officer Barry Brownhill, the business deal is the latest in a trend by the restaurant industry toward point of sale (POS) software containing automated built-in marketing features. These let restaurant owners more profitably mine existing customer data at less cost, he says.
"Without a doubt, marketing-enhanced point of sale software makes a big difference in fully exploiting an enterprise's customer database," says Brownhill. "We've teamed up with Repeat Returns to make a true point of marketing system which provides cutting-edge automated marketing and greatly improves conversion rates through responsive offers individually tailored to each customer."
He notes that the "point of marketing" approach is unique because busy restaurant owners don't have to fiddle with databases or responsive email design which is essential in today's marketplace – they simply ring up orders and the marketing takes off. The rate of return visits by customers often triples, he says.
Nancy Healy, a Rosati's franchisee, is impressed with the difference it made in her Schereville, Indiana restaurant. "Arrow and Repeat Returns' point of marketing program tracks each customer's buying patterns and spending potential, then crafts a custom marketing strategy for each," she says. "Diners in our database make up 29% of our clientele but are now the source of 61.5% of our restaurant's increased revenues."
After the successful pilot test of the software at this and several of its other restaurants, the Rosati's chain has begun installing it in their restaurants nationwide, adds Healy.
For more information on ArrowPOS, Inc. and its products and services, visit them online at http://www.arrowpos.com or phone (614) 657-5060.