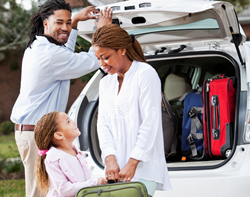 LINCOLN, R.I. (PRWEB) May 22, 2015
Memorial Day weekend is typically considered the beginning of vacation season, so Amica Insurance is offering some tips to help promote safe travel.
According to estimates from the National Safety Council, there will be 383 traffic fatalities this Memorial Day weekend. Amica is sharing the following road safety tips from the National Highway Traffic Safety Association:

Always wear a seatbelt: Make sure everyone in the vehicle is wearing a seatbelt, whether they're driving or riding along as a passenger. Seatbelts are the best defense against drunk driving-related crashes.
Designate a sober driver: Drunk driving deaths increase during the holidays, so if you plan to drink, make sure to choose a sober driver before going out.
Check tire pressure, tread wear and the spare: This is especially important if travelling in a 12- to 15-passenger van, 57 percent of which typically have at least one significantly underinflated tire.
Keep children safe in and around the vehicle: Check to see that car seats and booster seats are properly installed, and make sure that children are never left unattended.
About Amica Insurance
Amica Mutual Insurance Co., the nation's oldest mutual insurer of automobiles, was founded in 1907. The company, based in Lincoln, Rhode Island, is a national writer of auto, home, marine and umbrella insurance. Life coverage is available through Amica Life Insurance Company, a wholly owned subsidiary. Amica employs more than 3,400 people in 44 offices across the country. For more information, visit Amica.com.
CONTACT: Vince Burks, Corporate Communications, 50 Amica Way, Lincoln, RI 02865-1155, 800-652-6422, ext. 24563
Twitter: Amica
Facebook: Amica Mutual Insurance Co.