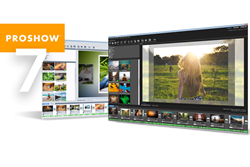 Austin, Texas (PRWEB) May 26, 2015
Photodex today announced version 7 of its award-winning ProShow Gold and ProShow Producer products. ProShow is an easy-to-use software application for Windows for creating photo, video and audio slideshows. ProShow offers a wide-array of special effects and built-in tools for making slick, professional video slideshows to share online, on disc or on any device.
New in ProShow 7 is a built-in royalty free music library with over 200 songs and sound FX, instantly available to use in slideshows and licensed for both commercial and personal use. Also new in ProShow 7 are many new video input and output offerings including support for importing 4K and longer video clips to use in slideshows, HTML5 video output and smarter video encoding technology, resulting in smaller video file sizes with noticeably better picture quality.
ProShow 7 offers tons of new features and enhancements, including:
Built-in Music Library
For the first time ever, ProShow 7 includes hundreds of royalty-free songs and dozens of sound FX, licensed for commercial & personal use and instantly available to use in slideshows. Users can browse the built-in music library by length, genre, and show type to find the perfect soundtrack for their show.
Optimized Video Output
ProShow 7 introduces a smarter video encoding technology resulting in noticeably better picture quality and smaller video file sizes. Most shows will benefit from a 50% reduction in file size when using certain video formats!
HTML5 Video
Users can now easily embed streaming video slideshows on their website or blog with ProShow Producer's HTML5 video output. This new format offers universal playback across all modern web browsers and mobile devices without plug-ins.
Download FX & Content
The new Download FX & Content features give users access to tons of amazing freebie effects like themed slide styles, transitions and add-on content - all available for instant download and ready to use in their shows.
Import 4K & Longer Videos
Working with videos is even easier. Users can import ultra high-def 4K videos along with longer video clips without overwhelming their system.
Optimized Disc Output
ProShow 7 provides users with better DVD & Blu-ray disc output and custom menu navigation options, with the new and improved disc authoring system.
"With ProShow 7, we wanted to offer our customers an easy way to find the perfect soundtrack for their slideshows. That's why we handpicked hundreds of songs of all types and genres, and made them available in the software at no extra cost. Each song is licensed and available for ProShow 7 users to use commercially or personally. We know music is a huge part of slideshow creation and can't wait to see all of the creative ways the new music and creative effects in ProShow 7 are used," said David Eddy, CEO of Photodex Corporation.
Pricing and Availability
ProShow 7 is available now for $69.95 (ProShow Gold) and $249.95 (ProShow Producer). Upgrades start from $44.95 for ProShow Gold and $89.95 for ProShow Producer. Available from http://www.photodex.com or by calling 1-800-37-PHOTO (1-800-377-4686).