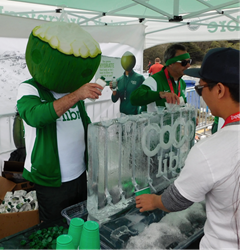 MOUNTAIN VIEW, California (PRWEB) May 22, 2015
Coco Libre, the Official Coconut Water of Zappos.com Bay to Breakers, has set a RecordSetter.com World Record at the 104th running of the race. On Sunday, May 17, 2015, a Coco Libre coconut water ice luge served 315 people in one hour—one person about every 10 seconds.
"The Zappos.com Bay to Breakers race is so true to the heart of the Bay Area, so unique, whimsical and fun that we felt bringing an ice luge to the finish line only made sense," said Jennifer Goodrum, Coco Libre Regional Marketing Manager. "And judging by the reaction from the runners, we may need a bigger one next year!"
More than 1,525 people lined up for Organic Coconut Water chilled by two 8-spout ice luges designed by Ice Illusions. In addition, Coco Libre gave away more than 18,000 bottles to Zappos.com Bay to Breakers enthusiasts.
"We were honored to partner with Coco Libre at our Finish Line Festival to help hydrate participants of the Zappos.com Bay to Breakers. We're thrilled that they now have their very own world record," said Ted Yeschin of Wasserman Media Group, organizers of the event.
The 104th Zappos.com Bay to Breakers drew nearly 50,000 participants, 70,000 Expo visitors and 250,000 spectators and generated buzz that trended worldwide on Twitter and earned a global Snapchat story.
About Zappos.com Bay to Breakers
San Francisco's Zappos.com Bay to Breakers is the oldest consecutively run annual footrace in the world, a staple to the City by the Bay since May 1912. With a starting point near the San Francisco Bay, a few blocks from The Embarcadero, the 12K race runs west through the city and finishes at the Great Highway where breakers crash onto the Pacific Coast's Ocean Beach. A quintessential San Francisco experience for 104 years, the race is interwoven into the fabric of the city and is a true reflection and celebration of life between the breakers and the Bay. For more information visit zapposbaytobreakers.com.
About RecordSetter.com
RecordSetter.com is the new home of world records, where everyone can be the world's best at something. The company's mission is to raise the bar of human achievement through world records. For more information, visit recordsetter.com or follow @RecordSetter.
About Coco Libre
Coco Libre's flagship Organic Coconut Water is the nutritional foundation for a growing family of purposeful beverages. Coco Libre Protein was a finalist for Best New Product Line Extension at the World Beverage Innovation Awards 2014. Coco Libre beverages can be found in grocery, specialty and natural foods retailers in the U.S. and Canada. To learn more visit http://www.cocolibreorganic.com, Facebook.com/CocoLibre, twitter.com/CocoLibre and Instagram @CocoLibre. Liberate your thirst.™
Media contact: Celina Simms – celina(at)maverickbrands(dot)com, (650) 739-0555