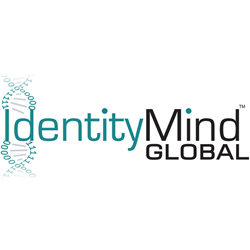 We've stepped ahead to create the platform these professionals need to develop cutting edge programs, detect unseen risk across all applications and channels, and adapt their programs to protect both their institution and customers in real time."
Palo Alto, CA. (PRWEB) May 26, 2015
IdentityMind Global™, provider of risk management solutions for digital commerce, announced today the availability of version 1.19 of its flagship Fraud Prevention and Risk Management platform. The latest version of the platform strengthens services across fraud prevention and anti money laundering, enabling financial institutions and online commerce providers to overcome the challenges imposed by stricter regulations and evolving fraud techniques.
"MicroMarketMonitor expects the global fraud detection & prevention and anti money laundering market to grow from $9,622.8 million in 2014 to $21,441.4 million by 2019, at a CAGR of 17.4% during the period under consideration."

MicroMarketMonitor, April 28, 2015
Most importantly, Platform 1.19 brings version 2.0 of the IdentityMind rule engine, enabling risk analysts to recognize and adapt to changing risk patterns in real time. The new rule engine incorporates an extensive feature set based on IdentityMind's five years working with Banks, Payment Service Providers, e-commerce, Money Service Businesses, Virtual Currencies, and Mobile payment providers, and addresses the challenges of combining Business Policies and Fraud Prevention strategies across multiple channels (e.g. web, mobile) and applications (e.g. account and payment fraud, onboarding risk, Know Your Customer, and Anti-Money Laundering).
"Digital commerce continues to progress, and these businesses and financial institutions are facing an evolving spectrum of risk challenges," said Mr. Garrett Gafke, IdentityMind Global's CEO and President. "It is no longer just account fraud, identity theft, or fraud prevention in e-commerce. Digital commerce now combines money transfers, account creation for digital wallets, alternative payment methods, provisioning, and remittances, to name just a few. We've stepped ahead to create the platform these professionals need to develop cutting edge programs, detect unseen risk across all applications and channels, and adapt their programs to protect both their institution and customers in real time."
The latest IdentityMind update provides leading compliance professionals and fraud analysts with the complete customization capabilities needed to design and operationalize cost-effective risk prevention and compliance strategies. IdentityMind Version 1.19 addresses the challenges of a new, ever changing risk and regulatory environment.
Additional Version 1.19 features:

Ability to segment policies based on the consumer's risk profile and the inherent risk of the application.
Separate controls for the mobile channel, including designated fraud prevention and risk management capabilities designed specifically for Mobile applications.
Data prioritization - Redesigned analysis tab layout improving data review efficiency by 35%
Enhanced automated review processes to reduce manual reviews by 20%
Take a peek at the new features of IdentityMind Version 1.19 here.
This version of the platform is immediately available to clients worldwide. For more information about the features in this release, or the overall IdentityMind Global platform, please contact: evangelist(at)identitymind(dot)com or sales(at)identitymind(dot)com.
About IdentityMind Global™
IdentityMind Global™ offers an identity-based platform for safer ecommerce. Our on-demand platform provides risk management, anti-fraud, and anti-money laundering services for online merchants, acquiring banks, payment processors, gateways, payment service providers (PSP/ISO/MSP), digital currency exchanges, and financial institutions (banks, money service businesses (MSBs), money transmitters).
Using proprietary eDNA™ technology and an ecosystem of third party data providers, our platform builds sophisticated reputations used to evaluate real-time risk across the payments and e-commerce system.
©2015 IdentityMind Global. All rights reserved. IdentityMind, IdentityMind Platform, IdentityMind eDNA, IDMPay and the IdentityMind logo are trademarks or registered trademarks of IdentityMind Global, Inc. in the United States and other countries. All other brand, service or product names are trademarks or registered trademarks of their respective companies or owners.
IdentityMind Global™ is privately held. For more information please refer to our website: http://www.identitymindglobal.com, or reach us at info@identitymind.com.