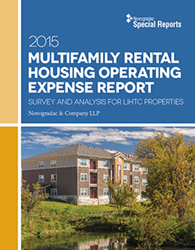 (PRWEB) May 26, 2015
Operating expenses for low-income housing tax credit (LIHTC) properties increased by 2.98 percent in 2013, or approximately $130 per unit, according to a report released by Novogradac & Company LLP. The 2015 edition of the report, "Novogradac Multifamily Rental Housing Operating Expense Report—Survey and Analysis for LIHTC Properties," reveals that operating expenses for LIHTC properties grew slightly faster in 2013 than the annualized growth rate of 2.82 that LIHTC properties experienced from 2010 to 2013. To provide insight into national and regional operating expense trends, Novogradac & Company LLP collected data, categorized that data based on accepted operating expense line items and analyzed the information. The report uses data from more than 2,100 properties that include more than 241,000 individual units to illustrate how rental housing properties' operating expenses differ over time as well as by property size, type and location.
"Our analysis confirms some conventional industry wisdom about operating multifamily rental real estate, but it also provides greater insight and details that provide key clarifications about those notions," said H. Blair Kincer, MAI, CRE, a partner in the metro Washington, D.C. office of Novogradac & Company LLP in the firm's government consulting and valuation advisory services (GoVal) group. "For example, the number of units in a multifamily rental housing property affects total median expenses per unit because of the economies of scale present in larger LIHTC properties. However, our data also revealed that the difference in operating expenses between large and small LIHTC properties is not as significant as sometimes thought, and is not seen consistently across the size spectrum."
The findings of Novogradac & Company LLP's operating expense report are also mostly congruent with economic trends, with a few notable exceptions. For example, Novogradac's analysis revealed sizable growth in utilities expenses in 2013, which was surprising given stagnating energy prices.
"This report corroborates many long-held industry practices, such as underwriting to a 3 percent annual growth rate in operating expenses," said Michael J. Novogradac, CPA, managing partner in the firm's San Francisco office. "However, our findings also delve deeper and deliver observations ranging from unit-level medians to regional and national trends. They provide strong tools for benchmarking affordable multifamily rental housing expenses for LIHTC developers, investors, property owners and managers, and others."
For more details and a copy of the report, please go to http://www.taxcredithousing.com.
Novogradac began operations in 1989, and the allied group of Novogradac companies has since grown to more than 500 employees and partners with offices in San Francisco, Walnut Creek and Long Beach, Calif.; the Washington, D.C., Atlanta, Ga., Detroit, Mich., Kansas City, Mo. and Seattle, Wash. metro areas; St. Louis, Mo., Boston, Mass.; Austin, Texas; Dover, Columbus and Cleveland, Ohio; New York, N.Y.; Portland, Ore.; Chicago, Ill.; and Naples, Fla. Specialty practice areas include tax, audit and consulting services for tax-credit-assisted multifamily and affordable housing, community revitalization and rehabilitation of historic properties. Other areas of expertise include military base redevelopment, preparation and analysis of market studies and appraisals of multifamily housing investments and renewable energy tax credits.