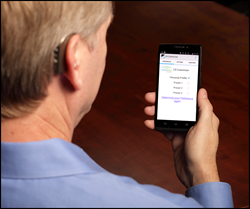 "By putting control in the hands of consumers, we are giving people with hearing loss a chance to rediscover the power of connection." Stavros Basseas, Sound World Solutions CEO.
Park Ridge, IL (PRWEB) May 26, 2015
Sound World Solutions recently released a true innovation in hearing accessibility, the Companion hearing aid. Putting control in the hands of the user, consumers have the ability to address their hearing loss directly, deciding when the time is right and purchasing a Companion hearing aid on line. Users can even customize the units to match their specific hearing needs. At only $299 for a single unit and $499 for a pair, the Companion hearing aid is significantly less expensive than other brands which typically sell for $1000-$4000 each. The rechargeable, lithium-ion battery frees users from the financial burden of traditional button cell batteries. FDA registration, low cost, the Sound World Solutions no risk hearing aid 30-day money back guarantee, plus a full one year warranty finally gives consumers who have been hesitant to try hearing aids – as well as those looking to upgrade their current hearing aid – the confidence to address their hearing loss on their own terms. Consumers can order the Companion directly by going to http://soundworldsolutions.com/hearing-aids/the-companion
Sound World Solutions has developed a technology platform that is unique: a Bluetooth enabled hearing aid on par with advanced digital hearing aids, but sold at a fraction of the usual high price.
The customer uses the free Customizer application running on a smartphone, computer or tablet, which enables screening of hearing in just a few minutes. When the hearing screening is over, the results are used to automatically program the Companion to the needs of the customer. Frequency and volume can then be further adjusted using controls on a smartphone or computer.
The Companion also has controls on the device that enable the consumer to directly adjust the device to their hearing preferences without the need of a computing device.
An adjustable tube and several ear tip sizes enable a secure and comfortable fit with Sound World Solutions' ear tips. The Companion ear tips are designed with a proprietary material for addressing mild, moderate and severe hearing loss – all while offering a comfortable, secure fit.
In addition to assisting with hearing, the Companion can also be used as a Bluetooth headset and for streaming music.
"By putting control in the hands of consumers and selling the Companion hearing aid at such an affordable price, we are giving people with hearing loss a chance to rediscover the power of connection, regardless of their economic circumstance, " Stavros Basseas, Sound World Solutions CEO. "The voice prompts, ability to customize using our application, and availability of four languages further enhance the accessibility of the product and make the Companion very easy to use."
About Sound World Solutions – a Passion for Connection
Sound World Solutions designs, manufactures and markets high quality, affordable hearing devices that help people rediscover the power of connection – regardless of geographic location or economic circumstance.
To succeed, we rethought every component and accessory of the system… from how hearing technologies are designed and produced, to how individuals have their hearing screened and fitted, to the delivery and maintenance of hearing solutions in both mature and developing nations.
The result is a line of state-of-the art, smartphone-enabled hearing aids and personal sound amplifiers that provide high-end performance, comfort, and intuitively-programmed customization at a fraction of the cost of traditional hearing solutions – using nothing more than a Bluetooth connection to a smartphone or tablet.
We market our products in the United States via respected and forward-looking retail, e-commerce, clinical and audiology channels. In developing nations, we partner with global businesses, as well as local mission-based organizations.
Learn more at http://www.soundworldsolutions.com