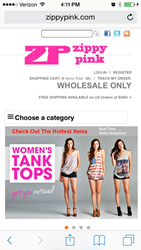 Our newly designed mobile optimized website will make buying experience better and easier than before. Thanks for our outsourced IT company
Los Angeles, CA (PRWEB) May 22, 2015
ZippyPink launched its mobile website recently, and this company will be the newest wholesale fashion clothing distribute website on mobile. This company comes with a large selection of items to choose from.
It is not common for most wholesale websites to have a mobile-friendly version of their website. ZippyPink wants to make a change and it will be a leading distributor inside of the wholesale fashion industry to have a mobile-friendly website, helping all mobile phone users to discover the latest in fashion. ZippyPink.com is the frontier to launch mobile website since last year.
Since there are more and more people who have started to shop for the products they want to buy one through the screens of their smart phones and tablets, ZippyPink has finally decided to create a mobile version of their official website, making it even easier for the shoppers to buy their most favorite fashion items.
Daniel Kim, Marketing Director, said, "Our newly designed mobile optimized website will make buying experience better and easier than before. Thanks for our outsourced IT company"
This company sells wholesale dresses, wholesale tops, and plus size wholesale fashion items. This wholesale fashion company is the company that sells fashionable items for women. These include pants, leggings, shorts, skirts, coats, cardigans, jackets, vests, blazers and a lot more products to choose from. This company offers all of those products at very affordable prices and they also offer discounts.
ZippyPink's wholesale customers include boutique shop owners, department stores, and retail shops who wish to buy wholesale clothing and sell to public. ZippyPink offers free shipping over $500 order to its clients. Another key element is that all styles come from the best selling wholesale brands and manufacturers.
ZippyPink is never outdated with what's new when it comes to wholesale fashion. Every day, this company has something new to offer to its customers. They actually offer a Prime membership program wherein customers will be able to get some special offers from the company itself. They will get free shipping of the items they ordered if they will join the membership program. For the past few years, ZippyPink has been recognized for providing the best plus size wholesale items.
Today, the company is hoping that everyone will be aware that they have launched their mobile-friendly website. The website is now live and can be accessed by any mobile phone units.
ZippyPink is a reliable wholesale clothing distributor in the city of Los Angeles in the state of California. This company is a fashion company that sells a wide selection of products to choose from including junior size and plus size wholesale items. They specialize in selling wholesale fashion clothes for women. ZippyPink is located at 1129 E. 12th Street, Ste. A, Los Angeles, CA 90021.
To place an order through ZippyPink.com, customers need to register for a wholesale account with the company. Users can begin to order wholesale clothing using the provided wholesale pricing structure. They accept payments through American Express, Visa, MasterCard, and PayPal.
To learn more about ZippyPink, please feel free to visit http://www.zippypink.com.