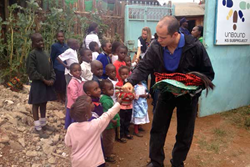 Kansas City, Kan. (PRWEB) May 22, 2015
Unbound, an international humanitarian organization working in 20 countries around the world has released an essay outlining progress on the continent of Africa in commemoration of Africa Day 2015.
The essay, written by Dan Pearson, Director of International Programs at Unbound, discusses many ways that African nations are progressing in terms of education, government stability and the economy.
Despite radicalization in several countries and terrorist acts, Pearson sees plenty of reasons for optimism, especially among the nearly 36 thousand children, young adults and elders served by Unbound in Africa.
Pearson explains the results of what he terms the "radically personalized approach" Unbound has implemented in Africa in contrast to traditional development efforts there. "The outcomes of these micro-programs demonstrate that poor families are capable innovators who are educating their children and creating small businesses despite great odds."
Read the entire essay here.
To schedule an interview with Dan Pearson, contact Elizabeth Alex at ElizabethA(at)unbound(dot)org.
Unbound is the largest nonprofit organization in Kansas with more than $120 million in annual revenue. Unbound works side by side with people of diverse faiths in 20 countries, bringing people together to challenge poverty in new and innovative ways.
Unbound distributes direct aid as quickly and efficiently as possible to people who need it. 92.5 percent of Unbound's expenses go toward program support.
Learn more about Unbound at http://www.unbound.org.
###