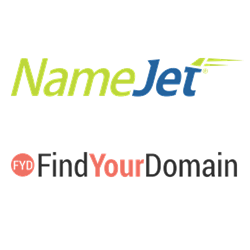 "Find Your Domain has some incredible inventory and offering this portfolio on our platform is in line with our commitment to bring the highest quality names to the domain name aftermarket." - Jonathan Tenenbaum, General Manager, NameJet
Kirkland, WA. USA (PRWEB) May 22, 2015
NameJet.com and FindYourDomain.com are pleased to announce the release of over 500 premium domain names on the NameJet platform over the next three months, many at low or no reserve.
This is the fifth time that FindYourDomain and NameJet have partnered to offer a portfolio of premium domains at NameJet. Previous Find Your Domain auctions on NameJet have resulted multiple six-figure sales for domains such as aerospace.com, houserentals.com, copy.com and nye.com, the latter which sold for $175,000.
Included in the current listing are premium single and two word domains like driving.com, labs.com, programs.com, census.com and ringtones.com; 3 letter .coms like dmn.com, ias.com, sdu.com and isu.com; and 2 letter .uk names like xx.uk, ke.uk and sa.uk.
"Once again, we are really pleased to be offering Find Your Domain's premium domains on NameJet," said Jonathan Tenenbaum, General Manager of NameJet. "Find Your Domain has some incredible inventory and offering this portfolio on our platform is in line with our commitment to bring the highest quality names to the domain name aftermarket."
About NameJet:
NameJet, LLC, a joint venture between eNom, Inc., a subsidiary of Rightside (NASDAQ: NAME) and Network Solutions, LLC, a subsidiary Web.com (NASDAQ: WWWW), is the world's leading domain name auction platform. Launched in 2007, NameJet has since processed more than 300,000 domain auctions on its award-winning and easy-to-use website. With an exclusive inventory of expired and deleted domains from several of the largest registrars, plus top-quality premium name listings and drop-catching services, NameJet is the industry's most trusted auction and aftermarket services provider.
About FindYourDomain:
FindYourDomain is a domain name brokerage and consulting company that assists in online branding for companies both large and small. FindYourDomain has brokered many one word domain names, including Aerospace.com, Feng.com, and Copy.com, to companies worldwide. With over $20 Million in total domain name sales, FindYourDomain takes pride in connecting buyers and sellers of premium domain names. In addition, FindYourDomain provides strategic consulting and brand protection services for companies looking to solidify their online presence and build their brand.