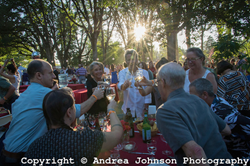 "IPNC is one of those rare wine gatherings that works on every level."- Eric Asimov, The New York Times
McMinnvillle, OR (PRWEB) May 27, 2015
During the IPNC weekend, world-renowned winemakers, northwest chefs, esteemed media, epicures, and wine lovers will gather on the beautiful campus of Linfield College in McMinnville, Oregon for three days of exploring Pinots from all over the world, savoring unforgettable meals, and learning and celebrating with luminaries of the food and wine world.
"Oregon is big-time Pinot Noir country–and this gathering is a must for lovers of the food-friendly varietal. IPNC offers up-close-and-personal encounters with winemakers, who mingle with guests at tastings and dinners" –The Wall Street Journal
Keynote Speaker, Sam Neill, was chosen as much for his sense of humor and charisma, as for his considerable list of accomplishments, both in film and in wine. Many know him for his leading roles in Jurassic Park, The Piano, and Dean Spanley. He is also well-known for the internationally awarded Pinot noir grown and crafted at his Central Otago winery, Two Paddocks. Sam is also admired for his commitment to protecting and preserving New Zealand's precious natural resources as a trustee of the National Parks and Conservation Foundation. Two Paddocks is a vertically integrated whole farm, producing not only wine grapes, but also lavender and saffron.
Wine & Spirits' Patrick Comiskey will moderate the 2015 Grand Seminar, a celebration of David Lett planting the first Pinot noir vines in the Willamette Valley at The Eyrie Vineyards in 1965. First, winemaker Rollin Soles of ROCO Winery (formerly winemaker for Argyle Winery) will lead guests through a flight of three single-varietal base wines, bottled at Argyle Winery, from Pinot noir, Pinot Meunier, and Chardonnay. A "dosage trial" of Argyle wines will follow, to help guests come to understand how this step transforms texture, balance, and the final expression of the wine. Afterward, guests will savor a hand-selected flight of sparkling wines from Argyle Winery, J Vineyards, and Soter Vineyards, followed by Champagnes from Ayala, Jean-Baillette-Prudhomme, Billecart-Salmon, Bollinger, and Henri Giraud.
This year's "University of Pinot" will feature a range of options from which guests can choose. 2015 courses will include Viticulture 300: Does Vine Age Matter? with Allen Meadows, Pinot Noir 101: Sensory Evaluation with Thomas Pastuszak of The NoMad and Rajeev Vaidya of DANIEL, Study Abroad: The Nuances of Alto Adige with Geoff Kruth, History 125: New Zealand Wine Stories with Sam Neill, Gastronomy 210: Your Palate's Next Great Pleasure, with master olive miller Paul Durant, Alchemy 225: Classic Tea Blends Deconstructed with Anthony Tellin of Smith Teamaker, Applied Art 315: Global Comparative Tasting with Glassmaker Georg Riedel, and Communications 410: House of Cards with Jordi Ballester and Matt Berson.
Praised as a showcase for the Northwest's famed farm-to-table cuisine, the IPNC hosts 70 chefs from the region's most revered restaurants. On Friday evening, dinner will feature courses by Andrew Biggs of Hunt & Gather Catering, John Gorham of Toro Bravo, Jeff McCarthy of Remedy Wine Bar, John Sundstrom of Lark, and Aaron Woo of Natural Selection. This year's Salmon Bake features Matt Christianson of Urban Farmer, Ben Dyer, David Kreifels, and Jason Owens of Laurelhurst Market, Phil Oswalt of the Multnomah Athletic Club, and Jason Stoller Smith of Timberline Lodge.
Along with the speakers and chefs, it's the relaxing and festive atmosphere that sets the IPNC apart from all other wine events. Whether tasting Grand Cru Burgundy or walking through Oregon vineyards with the grower who planted them, guests find themselves unwinding in picturesque Oregon wine country for what wine legend Jancis Robinson described as "one of the most enjoyable wine weekends in the world."
Tickets for the full weekend event, held July 24 – 26, include exclusive access to all seminars, tastings, tours and activities, as well as all meals over two days, and the Sunday Sparkling Brunch Finale. Weekend tickets are $1195 per person. All tickets are sold on a first-come, first-served basis. For full details, contact the IPNC at 800-775-IPNC (4762), or visit http://www.ipnc.org.