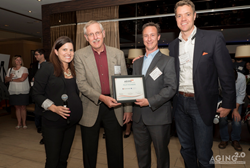 Sunnyvale, CA (PRWEB) May 22, 2015
Sunnyvale-based Pathways Home Health and Hospice received a prestigious award this week for its trailblazing willingness to try new things. Pathways was awarded the Pilot Pioneer Award by Aging2.0 at their Global Innovation Summit.
Greg Walton, President of Pathways' Board of Directors and Chief Information Officer at El Camino Hospital, accepted the award along with Pathways Director of Information Technology, Brad Miller. Pathways is an affiliate of El Camino and joined Aging2.0 in partnership with the hospital.
Aging2.0 is a global innovation network and "start-up accelerator" with a mission to fast-track innovations for improving the lives of older people. Pathways/El Camino was honored with the award because they have been among the very first to try out some of the cutting-edge technologies.
Pathways is piloting devices worn on the legs that capture data about a person's walking gait, including irregularities. This can help guide their physical therapy and identify those at risk of falls. Pathways is also conducting a trial of a tablet that makes the internet simple for people unfamiliar with technology. One goal of the tablet is to reduce the isolation many seniors experience.
Aging2.0, headquartered in San Francisco, connects entrepreneurs, technologists, designers, long-term care providers and seniors themselves in their efforts to speed creative solutions for the elderly. Pathways and El Camino were jointly invited to be part of the Leaders Circle which brings together 15 corporations that Aging2.0 believes have unparalleled insight, access and reach into senior care. Nearly 100 corporations are also currently participating in the Aging2.0 Alliance, a broader corporate membership program.
About Pathways Home Health & Hospice
Pathways is a non-profit organization that was a pioneer in home healthcare when it started more than 38 years ago. Pathways now serves 5,000 families a year in five Bay Area counties through its varied services: home health, hospice, private duty and geriatric care management.
Affiliated with El Camino and Sequoia Hospitals, Pathways is accredited by the Joint Commission and is a member of the Visiting Nurse Association of America, the California Hospice & Palliative Care Association, the California Association of Health Services at Home, and the National Hospice and Palliative Care Association. For three years in a row Pathways has been designated as a HomeCare Elite Agency for quality care.
For more information about Pathways services, grief support, volunteering or making a donation call 888.755.7855 or visit pathwayshealth.org.
About El Camino Hospital
El Camino Hospital is a nonprofit organization with campuses in Mountain View and Los Gatos. The El Camino hospitals have served communities in the South San Francisco Bay Area for more than 50 years.
El Camino is a nonprofit 501(c)(3) organization. Our hospital is fully accredited by The Joint Commission, the California Department of Public Health and the California Medical Association. El Camino is a member of the Hospital Council of Northern and Central California, the Association of California Healthcare Districts, and the American Hospital Association.