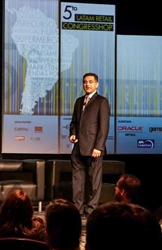 "retailers must have customer-centric strategic distribution network design for faster and larger outreach. - President and COO Manish Kapoor
Westlake Village, CA (PRWEB) May 22, 2015
Cheetah Software Systems President and COO, Manish Kapoor, was featured as the keynote speaker for the 2015 Latin America Retail Congresshop, the largest retail show in South America, which took place at Parque Central in Santiago, Chile on May 5th and 6th, 2015.
The 5th annual event, sponsored by America Retail, XPG Consultnet and Diario Financiero hosted retailers and industry experts from various organizations to discuss issues relevant to the industry and address IT & omni-channel innovation. The international exhibition brought together retailers and suppliers to share global trends, challenges, opportunities, best practices and success stories.
In his keynote presentation, Manish enlightened audience members on Last Mile logistics and what retail logistics leaders are doing to be successful citing that "retailers must have customer-centric strategic distribution network design for faster and larger outreach. To provide your brand experience in every case, you have to own the Last Mile". Manish mentioned "key factors that attribute to strong growth for leading e-tailers are reduced cannibalization and conflict between its stores and e-commerce, faster order fulfillment and delivery and increased coordination across digital and physical channels."
In addition to discussing the importance of the Last Mile for retailers, Manish shared how the retail supply chain has evolved into a customer driven pull economy presenting Macy's and Amazon as a standard in the US for engaging their customers through omni-channel retailing.
Among several world-class industry experts invited to speak as panelists on various topics, Manish also served on panels for innovative supply chain logistics in the retail industry.
Links:
(Exhibition summary)
http://america-retail.com/industria-y-mercado/con-gran-exito-comenzo
(Exhibition website)
http://www.congresshopretail2015.cl/pag_expositores.php
About Manish Kapoor:
Manish Kapoor, President and COO of Cheetah Software Systems, is one of the leading industry experts in logistics, especially Last Mile, with a relentless passion for customer experience and operational efficiency using disruptive technologies. Previously, Manish was the Director of Worldwide Last Mile at Amazon where he helped launch Amazon Fresh and Sunday delivery in the US while expanding delivery services worldwide. Prior to that, Manish served at FedEx as VP and Managing Director of Network Operations where he led the successful transformation of the FedEx Office Omni-Channel operations and the design and launch of FedEx SameDay City, a local courier service.
About Cheetah Software Systems, Inc.:
Cheetah is the precision logistics and live route optimization platform of choice for top-performing companies in LTL, courier, medical/healthcare and retail delivery. Cheetah dynamically manages fleets, routes and schedules in real-time so that every vehicle on the road drives fewer miles and makes more on-time deliveries. It automatically adjusts to incoming business orders and changing conditions while synchronizing your entire organization with visibility and dynamic decision support for drivers, dispatchers, customer service reps, managers and others. Cheetah makes your business better at every turn. Customers include leaders like Macy's, Ward Trucking, Cardinal Health, JS logistics, Central Freight, and many, many others. Find out more at http://www.cheetah.com.