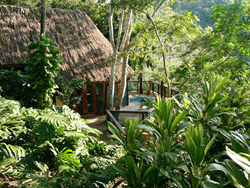 Properties that are awarded the Certificate of Excellence demonstrate hospitality excellence and represent the upper echelon of businesses listed on TripAdvisor, the world's largest travel site
San Ignacio, Belize (PRWEB) May 23, 2015
The Lodge at Chaa Creek's recent induction into Trip Advisor's Hall of Fame is a reflection not only of the Belizean eco-resort's popularity, but also of Belize's maturity as one of the world's most desirable travel destinations, according to Chaa Creek's owners.
Mick and Lucy Fleming, who started Chaa Creek in 1981 with a few simple thatched roof cottages on their family farm in the Cayo District of Belize, said that they and their staff were "over the moon" with the May 20, 2015 announcement from Trip Advisor, which bills itself as the world's largest travel site.
"Everyone in the tourism industry, and indeed, anyone who travels widely, regards TripAdvisor as a highly respected and authoritative travel resource," Ms Fleming said. "And the fact that their accolades are based on user-generated reviews means that any acknowledgement from them comes from a very wide range of experienced travellers.
"That's what makes the Certificates of Excellence we've received from TripAdvisor over the years so satisfying," she added.
According to TripAdvisor, "The Certificate of Excellence Hall of Fame is our way of recognizing hospitality businesses that have won a Certificate of Excellence five years in a row. After all, getting such glowing reviews year in and year out says a lot about a commitment to excellence."
The Certificate of Excellence Awards were introduced in 2010 as a way to honour businesses with a high rate of "outstanding" reviews from Trip Advisor commentators.
"Properties that are awarded the Certificate of Excellence demonstrate hospitality excellence and represent the upper echelon of businesses listed on TripAdvisor, the world's largest travel site," the TripAdvisor website notes.
"To determine Certificate of Excellence honorees, we use a proprietary algorithm that factors in a variety of user-generated content. This includes review ratings, overall rating and quantity and recency of reviews," the website explains.
Ms Fleming said that that winning five Certificates of Excellence in a row and entering the TripAdvisor Hall of Fame is a reflection on Chaa Creek's 140 staff members as well as an organisational culture that strives for and rewards excellence.
"When we first began back in the 1980s, we realised that positive word of mouth would be essential for success. Belize had only just achieved independence from Great Britain the year we opened for business, so there wasn't any worldwide branding or name recognition to speak of. In fact, Belize was virtually unknown as a tourism destination at the time.
"To overcome that, we knew we had to be exceptional. Fortunately, we're blessed with a stunning natural location and have attracted people to work here who are by nature warm and friendly as well as capable and hard working. We've also instituted staff development initiatives, avenues for career advancement and quality assurance programs. That's what's made a difference," she said.
Having grown from a small family farm that produced vegetables, chickens, eggs and yoghurt for local market, The Lodge at Chaa Creek now offers a range of accommodation options from rustic to eco-deluxe private Jacuzzi suites along with amenities that include an infinity pool, spa, fine dining restaurant and lounge, butterfly farm, the Belize Natural History Museum and conference centre.
Miles of trails crisscrossing the private 365-acre nature reserve support horseback and mountain bike excursions as well as guided nature walks and access to over 70 ancient Maya archaeological sites recorded on the property. Canoes and a traditional Belizean johnboat are available for excursions along the Macal River, and all terrain vehicles are used for jungle safaris.
"There's no doubt we've come a very long way, and so has Belize as a world class travel destination. We've all been blessed with beautiful scenery and weather, but at the end of the day, it comes down to the people who work here and the people who enjoy and appreciate that.
"That's what makes this latest award so gratifying," Ms Fleming added.
The Lodge at Chaa Creek is a multi award winning eco resort set within a 365-acre private nature reserve along the banks of the Macal River in Belize.
ENDS