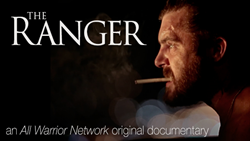 a story of forgiveness, redemption, and the will to survive
Hollywood, CA (PRWEB) May 22, 2015
Ahead of Memorial Day weekend, the All Warrior Network, in association with Musa Productions and Television Four Studios, debuts THE RANGER, directed by Emmy-Award winner Robert Ham. THE RANGER, a 30-minute documentary, chronicles the life of Chris Bemiss, Army Ranger, 1st Ranger Battalion, 75th Ranger Regiment, and veteran of the Afghanistan and Iraqi wars.
A member of the US Special Operations team that rescued American prisoner of war Jessica Lynch, his team of Rangers was tasked to recover the bodies of Lynch's fallen brothers and sisters. Later, in 2005, Bemiss was injured while on a mission in Mosul, Iraq immediately prior to the first Iraqi elections. Hospitalized and stricken by post traumatic stress, Bemiss returns home and turns to self-medication leading to a one-car crash that left him paralyzed. THE RANGER recalls the abject failure of the Veteran's Affairs hospitals in treating Bemiss after his injury and how the support of one fellow Ranger, SFC Jay Granger, brought Bemiss from the brink of suicide to the doorstep of other men and women in need through the veteran support network the GallantFew.
"Chris' story is one of forgiveness, redemption, and the will to survive," said the film's director Robert Ham. "From the first moment he told me his story, I knew this had to be shared with as wide an audience as possible. It is not the typical hero story. He is flawed like most of us, but he drives on for something greater than himself," said Ham. "I love Chris and his story and I hope others are as inspired by it as I am."
THE RANGER, a film dedicated to the memory of SFC Jay Granger, the Airborne Ranger in the Sky, is the 6th installment of the Robert Ham Collection on the All Warrior Network. Other titles include:

THE RANGER is available today on the All Warrior Network on Hulu, YouTube, and, AllWarriorNetwork.com and the AWN iPhone application. The film's producer, Lieutenant Colonel (ret) Greg Bishop, said, "Chris' story is one of strength, determination, grit, and tremendous honesty. He tells a deeply personal and painful story so that fellow Veterans may learn from his mistakes."
"In representing the civilians that worked on this film," said Jon Cody, CEO of TV4 Entertainment, "THE RANGER is a sobering story that every American must see. Chris' story is emblematic of a generation of young men and woman that have served and sacrificed over the last decade and half in Afghanistan and Iraq." "We, as a Nation," said Cody "must do better in helping our Veterans acclimate to civilian life, we must demand better care for our Veterans from our VA hospital system, and we must do everything in our power to stem the tide of 22 men and women taking their lives on a daily basis."
This Memorial Day, the All Warrior Network salutes the men and women associated with these films who paid the ultimate sacrifice and sends our thoughts and condolences to Gold Star families across the globe. For more information on Veteran support organization GallantFew, please visit http://www.gallantfew.org.
About All Warrior Network
The All Warrior Network is a warrior-themed entertainment destination for millions of service members, military veterans, and core fans of the warrior genre. A partnership between Musa Productions and TV4 Entertainment, the All Warrior Network aggregates high quality original and library military content and is available on Hulu, Amazon, Vessel, YouTube, and at http://www.allwarriornetwork.com.
About Musa Productions
Musa Productions is a full service production company owned by seasoned military veterans with modern tactical combat experience and broad entertainment experience. In addition to the All Warrior Network, Musa Productions has completed its first feature film, Ktown Cowboys, an official selection of South by Southwest and in theaters this Fall.
About TV4 Entertainment
TV4 Enteratinment is the parent company of Television Four Studios, which produces authentic, high-quality original short and feature films, and digital and television length series for distribution on TV4 Entertainment's portfolio of genre-specific Internet TV channels. In addition to the All Warrior Network, TV4 Entertainment manages a boxing channel (Undisputed Champion Network), a documentary channel (DocComTV), a motorsports channel (Motorland), a child illness channel (The Clairity Project) and will have 30 channels by the end of 2015.