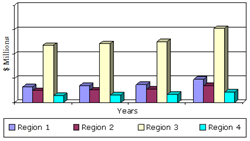 The global agrochemical market is expected to reach $257.5 billion in 2019
Wellesley, Mass. (PRWEB) May 22, 2015
Despite the agrochemical market's enormous potential, pesticides and fertilizers are chiefly responsible for the pollution of surface water and other types of environmental pollution. BCC Research shows how populous countries such as India and China are still contributing to the growth of the agrochemical market. The global market was valued at nearly $189.8 billion in 2013 and is expected to reach $257.5 billion in 2019, with a compound annual growth rate (CAGR) of 5.4% from 2014 to 2019.
Fertilizers running into rivers and streams can decay into substances that are harmful and raise methane and ammonia levels. Moreover, the formation of algae also depletes the presence of oxygen in rivers, killing the natural aquatic habitat. Thus, overuse of fertilizers impacts the environment adversely. European countries are the least involved in this market due to government regulations that discourage the adoption of agrochemical-based applications. Furthermore, the value of agrochemical sales, especially pesticides, has decreased in the past few years in countries, such as France and the U.K., contributing to the decrease in the overall growth of the market.
"Approvals of new chemicals are difficult to obtain due to the harmful effects of synthetic-based agrochemicals on humans, plants and animals," says BCC Research analyst Yojana Jeevane. "Governments are focusing on bio-based agrochemicals instead of synthetic-based products to reduce the social and environmental impacts of chemicals used in producing agrochemicals."
Global Markets for Agrochemicals(CHM054B) presents an in-depth analysis of the global agrochemical market by type and geographic regional markets. It covers the major categories of agrochemicals used for crop protection across the globe.
Editors and reporters who wish to speak with the analyst should contact Steven Cumming at steven(dot)cumming(at)bccresearch(dot)com.
About BCC Research
BCC Research publishes market research reports that make organizations worldwide more profitable with intelligence that drives smart business decisions. These reports cover today's major industrial and technology sectors, including emerging markets. For more than 40 years we've helped customers identify new market opportunities with accurate and reliable data and insight, including market sizing, forecasting, industry overviews, and identification of significant trends and key market participants. We partner with analysts who are experts in specific areas of industry and technology, providing unbiased measurements and assessments of global markets. Recently selected as the world's greatest market research company, BCC Research is a unit of Eli Global, LLC. Visit our website at http://www.bccresearch.com. Contact us: (+1) 781-489-7301 (U.S. Eastern Time), or email information(at)bccresearch(dot)com.