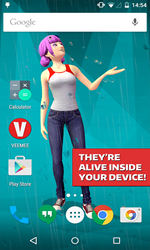 We wanted to reinvent the avatar for the mobile generation, allowing people to create an amazing 3D character, then set it free into their existing digital life. Everyone needs a friend in life and our goal is to make it a virtual one.
Edinburgh, UK (PRWEB) May 22, 2015
Today, Veemee announced the launch of two game-changing personalization apps – Veemee Live Wallpaper & Veemee Creator – available now from the Android Play Store. The Veemee apps redefine how to think about the Android Home Screen, by placing a 3D avatar front and centre of the phone UI and bringing a device to life. This never-before-seen concept allows users to create incredible personalized 3D characters, dress them in the virtual store and then export them to their Android desktop to act as a virtual playmates. Watch as the Veemee makes the phone their home - reacting to user actions and the digital data around them - including the weather, incoming calls & the music played. The Veemee Live Wallpaper also incorporates an all-new patent pending 'Think Links' feature to serve up a daily dose of fun and relevant links as thoughts via the Veemee characters.
Veemee Live Wallpaper App features:

Choose 1 of 8 cool pre-made Veemees to live on the device
Interact with them in ever expanding ways – try shaking, poking or throwing them around. There are always loads of new animations and interactions to discover.
Check out what the Veemee is thinking by tapping on their 'Think Links' with new categories of thoughts every day.
Awesome visual effects and Veemee animations in response to your local weather forecast.
Play any music and watch the Veemee get down and dance!
Veemee Creator App features:
The best 3D avatar creator on mobile.
Acts as a companion app to the Veemee Live Wallpaper and allows full customization of the Veemee character.
An ever-expanding virtual store of clothing and costumes to dress the Veemee, including real world brands.
Share Veemees with friends by taking pictures direct from the app.
Import any picture image as a background or take new ones to personalize the Veemee's world.
Create a Veemee account and receive 2000 free gems to spend on virtual fashions!
Veemee Live Wallpaper:
Video - https://goo.gl/COmTQA Play Store - https://goo.gl/tOSu2R Press Assets - https://goo.gl/Xs4a3E
Veemee Creator:
Video - https://goo.gl/UXXAO3 Play Store - https://goo.gl/3otdPQ Press Assets - https://goo.gl/Xs4a3E