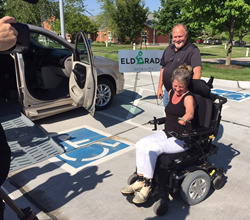 Omaha, NE (PRWEB) May 22, 2015
Mobility for Humanity, a non-profit organization based in Omaha, Nebraska, and ElDorado Mobility recently joined together to present a 2014 Dodge Grand Caravan SXT, with an ElDorado Conversion, to Teri Roberts, a local Omaha area resident who recently became disabled as a result of a sudden illness. The van was personally delivered to Mrs. Roberts by the presidents of Mobility for Humanity and ElDorado Mobility at a special presentation held at Quality Living, Inc.
Mobility for Humanity was founded in 2011 by Mark Zach, a respected member of the mobility industry and owner of Mobility Motoring, a mobility vehicle dealership in Omaha. As the dealership's owner, Zach often encounters individuals in need of mobility transportation, but can't afford it, especially when facing significant healthcare costs that limit their resources. This was the motivation behind Zach creating Mobility for Humanity, which has provided 12 vehicles to those in need since its inception.
"My family and I have been so fortunate in our lives, I knew there had to be a way to help others," explains Zach who's been in the mobility industry for 25 plus years. "So we started Mobility for Humanity and trained our sales people to ask customers who were trading in a vehicle if they would be willing to donate it. Over the years, many people have said yes."
When Zach learned about Mrs. Roberts and the illness that caused her disability, he was determined to help her. He worked with Matt Ford, President of ElDorado Mobility, and his Board of Directors, to provide her with a near-new van with a new conversion that will allow her the freedom to drive herself where she needs to go. The 2014 Dodge Grand Caravan, was presented to Mrs. Roberts on Thursday, May 21, and is retrofitted with a lowered floor equipped with a powered ramp and power kneeling system that decreases the slope and incline of the ramp. The van also will be equipped with special hand controls to accommodate Mrs. Roberts' needs.
"We've had a long-standing relationship with Mark and Mobility Motoring, so when this opportunity surfaced, we were thrilled to partner with him and Mobility for Humanity," stated Matt Ford, President of ElDorado Mobility. "Mark is not only highly respected in the industry, but he's a pillar of the community in Omaha and has done so much for so many people in need. It was incredibly rewarding to work with him on delivering mobility back to Mrs. Roberts' life."
About Mobility for Humanity
Mobility for Humanity is a non-profit formed in 2011 with the intent to provide mobility transportation for individuals with disabilities. To date, 12 vehicles have been provided to deserving families through generous donations. For more about Mobility for Humanity, visit mobilityforhumanity.org.
About ElDorado Mobility
ElDorado Mobility was founded in 1956 in southern California and produced the first cab-over pickup truck camper. The company began manufacturing of commercial cutaway buses in Minneapolis, Kansas in 1979 and has become the largest volume producer of commercial buses in North America. ElDorado has been manufacturing mobility products for 14 years at its world-class facility in Salina, Kansas. ElDorado Mobility is owned by Allied Specialty Vehicles (ASV), the largest manufacturer in North America of emergency vehicles and small buses, as well as the leading manufacturer of terminal trucks, recreation vehicles and street sweepers.