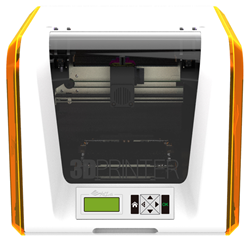 San Diego, CA (PRWEB) June 02, 2015
XYZprinting recently announced a Facebook contest where fans have the opportunity to win a da Vinci Jr. 3D printer for their school. Facebook users simply have to create a short video (30 seconds-1 minute long) saying why their school needs a 3D printer from XYZprinting, what they could create with the da Vinci Jr. 1.0 and then ask friends and family to vote for their video.
XYZprinting's da Vinci Junior 1.0 is the most affordable and easy-to-use 3D printer on the market. With a price point of just $349, the da Vinci Junior 1.0 is increasing the accessibility of 3D printing to a broader range of consumers, educators and hobbyists. The printer requires no calibration, and features a new auto-loading filament system, which notifies users when filament is running low.
The device also includes a new one click, fast-release extruder, making it more convenient for users to change and remove extruders for cleaning or replacement. In addition, the da Vinci Junior 1.0 was designed to minimize environmental impact.
Entrants must like the XYZprinting page on Facebook and have an email address affiliated with a school in order to be eligible to win. The video uploaded must state the following:

Entrant's Name
School Name
School Program (if applicable)
Why the entrant wants to WIN a da Vinci Jr. 3D printer for their school
What the entrant would create with the 3D printer
3D printing fans can enter and vote on videos here: https://www.facebook.com/XYZprinting/app_340844892643734
About XYZprinting
Founded in 2013, XYZprinting boasts the most affordable and easy-to-use 3D printer with no assembly required, a smart design, unique safety features, best warranty in the industry, and an accessible online gallery for consumers, artists, small-to-midsized businesses and entrepreneurs around the world. With offices currently in China, Japan, the United States and Europe, XYZPrinting is dedicated to bringing cost-effective 3D printing to personnel and business around the world. With proven industry expertise and an innovative spirit, XYZprinting is poised to break down the barriers of 3D printer ownership by providing an easy-to-use device that delivers an outstanding user experience.
XYZprinting is backed by world's leading electronic manufacturing conglomerate--- New Kinpo Group, which earns more than $30 billion revenues annually and has more than 8,500 engineers in research and development across four continents. New Kinpo Group has more than 40 years of experience developing and manufacturing consumer electronics for both personal and commercial use.