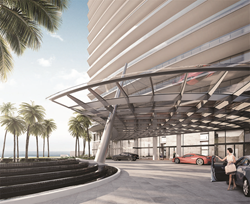 The international investors weigh a lot among the whole pool of buyer
Miami Beach, Florida (PRWEB) May 27, 2015
Condoideas Realty Group shares its findings from its new comparative analysis: a progressively declining inventory, maintained prices, and high-end buyers continuously converging to Miami. The inventory is a good indicator of the real estate market: Miami Active Listings have gone from 43,000 in summer 2008 to only 18,300 in the first quarter of 2015. However, the inventory is still higher than last year when it went down to 16,879 in March 2014. Currently, investors buy single family houses after 5 months of inventory while it can go up to 9 months of inventory for condos as seen on Condoideas' website, leader in Condos sales on Miami Beach.
The real estate market remains strong as all types of properties generally get sold at over 90% of the list price. It shows that properties do not sell at full price on average but sounds reassuring regarding the overall assessment of the market by both realtors and investors.
Indeed, single family homes in Miami sell on average at 94.6% of full price after 54 days on the market. Condos just wait a little longer to find a new owner, but sell after 2 months at 93.5%. Sales at the Yacht Club at Portofino or the Icon South Beach prove this right.
As expected and observed in the past few years, South Americans come first: Venezuelans are the first international buyers in the county, followed by Argentinians, Brazilians and Colombians. 72% of international customers come from Latin America in Miami-Dade. They seem particularly interested in new developments in either Downtown or Brickell, such as Brickell City Centre where most reservations have been booked by South American investors. Then come the other neighbors from the North: Canadians. Slightly hindered by their economy, Mexicans come next. Among Europeans, the French and the Italians represent the main investors in Floridian properties, of around 13%. They are particularly fond of Miami Beach properties such as the Murano Grande. That proportion has remained quite still over the years. However, the strengthening of the dollar has had a noticeable impact. Indeed, all these countries seem to have felt the impact of the dollar, thus buying less in volume or investing in less extravagant and pricey residences.
28% of international buyers spend over $500,000 to purchase a Miami unit. Typically, they purchase high-end expansive condo units with a minimum of 2 bedrooms going up to 4 bedrooms such as the Marina Blue. A significant 9% of buyers is not only eager to but actually invest in residences that are over $1M. Such figures epitomize the reason why Miami is called "the Millionaire's Playground", that mostly attracts high-end buyers from all over the world. That is why projects like Armani Residences keep on blossoming and get ready for the years and the new crowd of buyers to come.
Back in 2010, the most important reason that influenced a purchase in Miami-Dade-Broward was doing a safe investment. In the following years, it became more about doing a profitable investment. Now, for 31% of customers in 2014, the desirability of the place for vacation or other purposes has turned into one of the main points of focus. Location, location, location… Hence the success of buildings such as the Apogee.
Buyers look for a destination above all. Apparently, 4 of the 10 top U.S. Cities that are searched by global buyers are in Florida: Miami, Orlando, Fort Lauderdale and Naples! And Miami comes 3rd after New York and Los Angeles.
Overall, even though the sales volume is undergoing a slight reduction, it seems to be part of an overall slowdown after the years of boom, which is also highlighted by a strong dollar. However, the international investors still weigh a lot among the pool of buyers and Miami remains at the top of the global favorite destinations to purchase in!