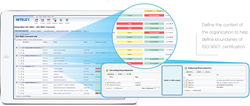 Our intention is to move beyond simply measuring compliance and begin putting in place changes that work and help to move businesses forward.
Toronto, Canada (PRWEB) May 26, 2015
Intelex, a leading global provider of Environmental, Health & Safety and Quality Management solutions to more than 1,000 of the world's most respected brands, announced today the launch of Intelex Integrated ISO 9001. This new quality management software solution focuses on helping companies of all sizes adapt to the upcoming revision to the ISO 9001 standard, and go from bare-bones compliance to leveraging the standard as a strategic advantage by integrating all business processes and practices impacting quality.
Maintaining a consistent and documented quality management protocol is critical for many businesses. The new update to the ISO 9001 standard takes this one step further by encouraging visibility and accountability across all business functions. This integrated thinking is critical to a brand's long term success, yet several factors make this extremely difficult in practice. Historically, standards compliance has resided across isolated data and departmental silos. But by taking advantage of the unified platform approach from Intelex, organizations are now able to achieve a clear view across all practices and processes impacting their quality initiatives.
Developed based on over 20 years of experience delivering quality management systems for the world's leading brands, Intelex Integrated ISO 9001 was created from the ground up as a quality management platform that empowers companies of all sizes with a deep integration and risk-based approach required in the upcoming standard's update. Having a single pane of glass view into all the business processes and metrics related to quality initiatives helps companies go from merely complying with standards, to leveraging them as a way to improve their business performance.
"A robust quality management system is key in ensuring customer satisfaction, loyalty and brand advocacy," said Mark Jaine, President and CEO of Intelex. "With our Integrated ISO 9001 software we have evolved our approach to align with the updates to ISO 9001, and empowered organizations that were previously limited by resources to now adhere to the standard"
Features of Intelex Integrated ISO 9001
Intelex Integrated ISO 9001 includes a variety of features designed to achieve the following benefits:

Reduced software implementation project lifecycle with an integrated solution that leverages standardized workflows based on industry best practices
Define the context of your organization like never before. Make the scope of your ISO 9001:2015 certification clear within your organization and to auditors while getting instant feedback on the health of your overall QMS.
Assign recurring tasks to your employees to continuously monitor process outputs to ensure that your QMS is always operating at optimal levels to help you build a Culture of Quality and achieve new levels of performance excellence.
"Quality Management programs need to go beyond simple compliance requirements and become competitive strategic advantages for the brands that are investing in them." added Jaine. "Our intention is to move beyond simply measuring compliance and begin putting in place changes that work and help to move businesses forward. It's all about changing behaviors."
Intelex Integrated ISO 9001 is available immediately. Learn more at http://www.intelex.com
About Intelex:
About Intelex: With more than 1000 clients and one million users, Intelex Technologies Inc. is a global leader in Environmental, Health, Safety (EHS) and Quality management software. Since 1992 its scalable, web-based platform and applications have helped clients across all industries improve business performance, mitigate organization-wide risk, and ensure sustained compliance with internationally accepted standards (e.g. ISO 9001, ISO 14001 and OHSAS 18001) and regulatory requirements. Intelex is one of Canada's most highly awarded and fastest-growing tech companies and has been named one of Canada's Most Admired Corporate Culture, Best Managed Companies in Canada, one of the fastest growing companies in PROFIT Magazine, as well as one of the country's top employers by Aon Hewitt and Best Small and Medium Employers.