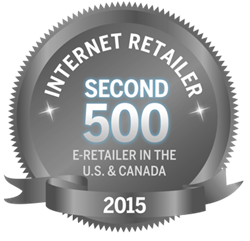 We partly owe our success to Internet Retailer for the education we gain yearly through attendance of the annual conference and networking with other e-tailers
Atlanta, GA (PRWEB) May 27, 2015
CablesAndKits— a world-class provider of networking hardware and fiber optic, Ethernet, premise wiring, and server room products—is proud to announce that they have been selected as part of Internet Retailer's 2015 elite group of Second 500.
Internet Retailer created the only E-commerce research publication that ranked North America's fast-growing mid-tier web merchants based on their 2014 online sales. Every year, Internet Retailer ranks the fastest growing, up-and-coming web merchants and awards deserving companies with overall and specific ratings.
With a 2015 ranking of 653 overall, as well as being 14th in the computer/electronics merchandise industry, this is the second year in a row that CablesAndKits has been awarded this standing with Internet Retailer.
"Receiving this award for the second consecutive year represents our company's commitment to providing our customers with excellent overall experience. Over the last year, our team has focused on expanding our product selection to meet better the needs of our customers," said Chris McCoy, E-commerce Director of CablesAndKits. "While we are thrilled to stand with the top online retailers, our core purpose is to positively impact the lives of everyone we interact with."
"We are honored to be recognized by Internet Retailer and are thrilled to continue to be in the ranks of some of America's finest E-commerce companies," said Craig Haynie, CEO of CablesAndKits. "We partly owe our success to Internet Retailer for the education we gain yearly through attendance of the annual conference and networking with other e-tailers. We are thankful for their continued investment in the success of those of us operating in this space."
About CablesAndKits
CablesAndKits is a world class provider of Cisco networking hardware, a wide range of Cisco replacement parts and accessories. We also specialize in fiber optic, Ethernet, and other premise wiring products, server room, and data center infrastructure including equipment racks and shelving, power cables and power management products.
As experts in awesome, CablesAndKits offers same day shipping on most products, as well as a 100% satisfaction guarantee, along with a Lifetime Warranty.