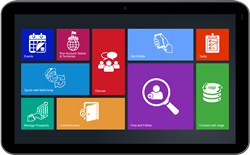 We chose Suntico because it is a complete solution with an easy to adopt interface
Buford, GA (PRWEB) June 09, 2015
Progressive Solutions Corporation of Algonquin IL is expanding and looking to grow its network of manufacturers reps. To support this, the company has selected Suntico as a comprehensive account management solution.
Suntico is an online account management solution that works seamlessly with Sage 50 accounting software and bridges the communications gap between field reps and head office for manufacturers and wholesalers.
"Efficiency and ease of implementation is important to our business. We chose Suntico because it is a complete solution with an easy to adopt interface," says Jason McMahon, owner of Progressive Solutions Corporation of Algonquin, IL.
"We have worked really hard to make sure that Suntico is easy to adopt." says Hugh Johnson, Senior Vice President of Business Development at Suntico. "Manufacturer's reps are busy and represent a number of different companies. They need a solution that is simple, effective and intuitive."
"Just like Progressive Solutions Corporation protects the investments made by its customers in expensive capital equipment, Suntico protects the investments that its customers have made in Sage 50 and in their client and rep relationships," continues Hugh.
About Progressive Solutions Corporation:
Progressive Solutions Corporation is a family-owned manufacturer of power spraying equipment as well as environmentally-friendly chemicals used in the construction, maritime, manufacturing and agricultural markets. The company is based in Algonquin, IL and supports companies across the USA and beyond.
About Suntico:
Suntico is an online account management system for companies that value face to face client contact. The system is suitable for internal company staff as well as independent sales reps. It is incredibly easy to learn with a modern Facebook-like interface. Suntico links tightly with popular accounting software and is currently available for Sage 50. Accounting US (formerly Peachtree), Sage 50 Accounting Canada (formerly Simply Accounting), Sage 50 Accounts in the UK and Ireland, and Sage One (Ireland and UK).