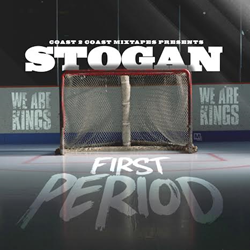 Lancaster, CA (PRWEB) May 22, 2015
Coast 2 Coast Mixtapes presents the release of the "First Period" mixtape by Stogan. This mixtape is currently available to stream and download on the popular websites Coast 2 Coast Mixtapes and DatPiff. This project features guest appearances from Mykall-Allen and Kaelin Hill. "First Period" is the first installment of the "Capitalize" mixtape series by Stogan. Based off of the Hockey theme, the series will contain "three periods", or mixtapes, in total.
Stogan, aka Logan Cigrang, was born and raised in Santa Clarita, California, a city just north of Los Angeles. He currently resides in Lancaster, California, which is just north of Santa Clarita. This 21 years old rapper started listening to hip-hop at about the age of 11. His first Inspiration was Sean Daley, whom is "Slug" from the group "Atmosphere". By the age of 16 he had become a profound fan of hip hop and its intense lyrics. A good friend of Stogan showed him the path to being able to freestyle at the age of 16. So for about a year he would kick a verse with all of his "homies" trying to brush up his skills.
At the age of 17 Stogan was arrested for multiple felonies as a minor. He ended up being sentenced to Probation Camp. When his term was almost up he ended up breaking his neck inside the camp. Once Stogan was at home with a broken neck he had about half a year of being able to do absolutely nothing but write music. It was at this point where he learned and excelled quite efficiently.
He has had many ups and downs when it comes to his music when it comes to working with other artists in his town. He has lost a good number of friends because of his clear vision regarding his music career. By the time he turned 21 his biggest influences were artists such as Logic, Tech N9ne, Hopsin, Slug, J. Cole, Lil Wayne, Jon Bellion, Big Sean, Eminem, and many more.
Even though he is in the early stages of his career, Stogan prides himself on his fast, technical flow and delivery. Enjoy his Freshman Mixtape and Look out for him in the future!
Stay up to date with Stogan on Twitter at: @stogannn
About Coast 2 Coast Mixtapes
Coast 2 Coast Mixtapes are the most widely distributed mixtapes in the world, with over 100 million downloads/plays generated by over 200 volumes officially hosted by major artists. Coast 2 Coast has a solid reach in the new music industry with a digital magazine, DJ coalition, industry tips blog, yearly convention, and more. Coast 2 Coast Mixtapes represents a unique opportunity for artists of all urban genres, from major to indie. For more information, visit http://www.coast2coastmixtapes.com.