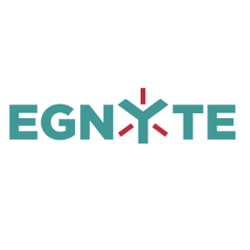 MOUNTAIN VIEW, Calif. (PRWEB) May 26, 2015
Egnyte, the market leader in Adaptive Enterprise File Services, will exhibit at the 2015 FINRA Annual Conference in Washington, D.C. May 27-29, 2015. With the increased cloud adoption and strict guidelines associated with financial data, Egnyte will demonstrate how its FINRA-compliant solution can help solve the pain points related to managing and sharing regulated data in the cloud. The company's Chief Security Officer Kris Lahiri will meet with attendees at the event in the company's booth #49.
What:
2015 FINRA Annual Conference
Who:
Kris Lahiri, Chief Security Officer and co-founder at Egnyte, will meet with attendees in the Egnyte booth to discuss the trends and pain points of file sharing in regulated industries.
When:
May 27-29, 2015
Where:
Booth #49
Marriott Marquis
901 Massachusetts Avenue, NW
Washington, D.C. 20001
About Egnyte
Egnyte is the market leader in Adaptive Enterprise File Services that uniquely anticipate IT and end users' needs to securely, easily and intelligently share files on premises and in the cloud. Egnyte's award-winning platform integrates with any cloud, storage, device and business application to enable customers to optimize their collaboration environments through secure access, centralized control and unified visibility. Egnyte enables IT to make informed decisions on infrastructure utilization and workflows and end users to access unique content intelligence to proactively adapt their content sharing, management and protection strategies.
Egnyte was founded in 2007 and is a privately held company headquartered in Mountain View, CA. It is backed by venture capital firms, including Google Ventures and Kleiner Perkins Caufield & Byers, as well as technology partners, such as CenturyLink and Seagate Technology. Please visit http://www.egnyte.com or call 1-877-7EGNYTE for more information.
###