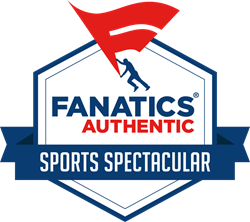 Boston has produced some of sports' greatest athletes and traditions, which makes bringing the Fanatics Authentic Sports Spectacular to the city exciting year after year.
Fort Lauderdale, Florida (PRWEB) May 25, 2015
Fanatics Authentic is returning to Boston, Massachusetts on June 5th with its unique sports memorabilia show for the second time and will bring more than 40 prominent athletes along for three days of events. At the Fanatics Authentic Sports Spectacular in Boston, the Royal Plaza Trade Center is scheduled to host a variety of New England sports icons and top names from every major league to give fans the chance to meet some of their favorite athletes.
From Friday June 5th through Sunday June 7th, the Fanatics Authentic Sports Spectacular will provide Boston area sports fans with a weekend of events, including autograph sessions with rising stars, current champions, and legends of the game. In addition to headliners, David Ortiz, Malcolm Butler, Dan Marino and Pedro Martinez, the Boston Fanatics Authentic Sports Spectacular boasts an impressive lineup of athletes from the MLB, NFL, NHL, and NBA. In honor of the show opening, Friday night will feature roll back pricing for "Today's Stars at Yesterday's Prices" with discounts on autographs from Dennis "Oil Can" Boyd and Steve Grogan. On Saturday, June 6th, the show will honor the 40th Anniversary of the 1975 Boston Red Sox with appearances by over 15 team members, including Carlton Fisk, Dwight Evans, Jim Rice, Fred Lynn, and more. With athletes available for signing sessions and photo ops over the course of the weekend, Fanatics Authentic is bringing fans of all loyalties closer than ever to their sports idols, ranging from the second overall pick of the 2015 NFL Draft Marcus Mariota to the legendary Bo Jackson.
The Boston Fanatics Authentic Sports Spectacular caters to all sports fans and collectors by offering assorted ticket options. General admission is free of charge for the entire show and all attendees will receive a raffle ticket to be entered to win a deluxe framed Tom Brady jersey valued at $1,500. For die-hard fans and dedicated collectors, there is an all-inclusive VIP package available for purchase at $99, which includes an express line bracelet to reduce wait time for autographs, early admission each day that allows entry 30 minutes before the show opens to the public, an autograph and inscription ticket for Gaylord Perry on Saturday, one random athlete autograph ticket, and raffle tickets for giveaways. Tickets for autographs, inscriptions, and photo-ops will be available for every athlete in attendance and can be purchased at various price points depending on each player. For $10 apiece, all items signed at the Boston show can be fully certified authentic and backed by the Fanatics Authentic authenticity guarantee.
"Boston has produced some of sports' greatest athletes and traditions, which makes bringing the Fanatics Authentic Sports Spectacular to the city exciting year after year," says Ross Tannenbaum, President of Fanatics Authentic. "We take pride in the ability to create unforgettable memories for sports fans at our shows and doing so for some of the most die-hard in the nation is incredibly rewarding."
The Fanatics Authentic Sports Spectacular in June will be held at the Royal Plaza Trade Center, which is located at 181 Boston Road West, Marlborough, MA 01752. Sports fans can pre-order autograph tickets, authentication vouchers, and VIP packages at http://www.FanaticsAuthenticShows.com or purchase them at the show.
About Fanatics Authentic:
Fanatics Authentic, the premier online destination for authentic autographed collectibles, is the memorabilia division of Fanatics, Inc. As the nation's largest online retailer of officially licensed sports products, Fanatics provides sports fans with the ultimate shopping experience via its brands, including Fanatics, Fanatics Authentic, and FansEdge. The company powers the online shops for all major professional sports leagues, like MLB Shop and NFL Shop, as well as media brands (FOX Sports, Yahoo! Sports, CBS Sports, NBC Sports), and over 200 collegiate and professional team properties. Fanatics also possesses official league licenses from the MLB, NFL, NBA, MLBPA, NFLPA, NCAA Football, NASCAR, CLC, PGA, NLL, and AFL.
With the support of Fanatics' unparalleled reputation as a Top 50 Internet Retailer Company, Fanatics Authentic offers sports fans a trustworthy and reliable source for authentic memorabilia. By developing exclusive athlete relationships with many of the top athletes in sports, including David Ortiz, Colin Kaepernick, Peyton Manning, and Paul George, Fanatics Authentic boasts a product offering unlike any other manufacturer. Due to a large distribution network, Fanatics Authentic provides fast shipping to sports fans nationwide, and is on the ground, leading the way for product procurement to deliver 100% authentic items in hot markets and more.
Fanatics Authentic is proud to partake in exclusive game-used relationships with professional teams, providing fans and collectors access to same-day, game-used merchandise. These rare products are acquired by an expert member of the staff and authenticated onsite. In addition, the Company has an in-venue division that retails merchandise throughout stadiums nationwide. The Fanatics Authentic headquarters is located in Sunrise, Florida. Its new 175,000 square foot facility is home to a premier custom framing, manufacturing, and engraving operation that is focused on delivering the highest quality products in memorabilia. For more information, visit: http://www.FanaticsAuthentic.com