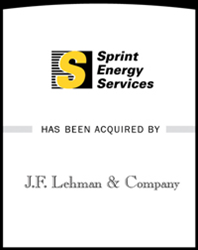 Charlotte, NC (PRWEB) May 26, 2015
BlackArch Partners ("BlackArch") is pleased to announce the sale of a majority of the equity interests of Sprint Energy Services, L.P. ("Sprint Energy" or the "Company"), a subsidiary of Sprint Waste Services, L.P. ("Sprint Waste"), to J.F. Lehman & Company ("J.F. Lehman"). Sprint Energy, headquartered in Houston, TX, is a leading comprehensive waste management solutions provider primarily serving major exploration and production ("E&P") operators, as well as oilfield service and other energy-focused companies in the United States. The majority recapitalization by J.F. Lehman and partnership with Sprint Energy's management team will provide the Company with additional growth capital to expand its service offering and geographic reach, develop a waste disposal facility and pursue strategic acquisitions.
BlackArch was retained by the Company to serve as its exclusive financial advisor. The Sprint Energy transaction builds upon BlackArch's experience and significant momentum in the energy and industrial services sector and in representing leading family- and founder-owned growth businesses. The successful partnership between Sprint Energy and J.F. Lehman is a testament to BlackArch's deep expertise and ability to navigate the energy industry given challenging dynamics in the oil and commodity markets.
Chris Swinbank, Sprint Energy's Founder and President, commented, "This was my second experience working with the BlackArch team. Sprint Energy selected BlackArch as our advisor specifically because of their deep experience in the energy and waste sectors and their ability to help communicate the differentiation of our business model and growth opportunity most effectively. They were steady partners who provided sound advice and certainty in an uncertain energy market."
About Sprint Energy Services, L.P.
Sprint Energy Services, L.P. (http://sprintenergyservices.com) offers a comprehensive range of outsourced waste management services and rental equipment that enables customers to focus on their core competencies. The Company provides customized, bundled solutions to E&P and oilfield customers that are facing increasingly complex compliance requirements. Through its strong track record of quality service, Sprint Energy has built an industry-leading reputation for fast, efficient and safe provision of services, establishing the Company as the preferred vendor to meet customers' comprehensive waste management and safety needs in its core geographic markets. Sprint Energy serves more than 300 customers located in some of the most attractive unconventional oil and gas plays, including the Eagle Ford Shale in Texas, the Permian Basin in both Texas and New Mexico and the Anadarko Basin in Oklahoma.
About J.F. Lehman & Company
J.F. Lehman & Company is a leading middle-market private equity firm focused primarily on the maritime, defense and aerospace sectors. For more information about J.F. Lehman & Company, please visit http://www.jflpartners.com.
About BlackArch Partners
BlackArch Partners is a leading middle-market investment bank offering a full spectrum of advisory services to financial sponsors, private companies and diversified corporations. BlackArch addresses the needs of owner-operators, founders and shareholders of private companies with specialized services that include M&A advisory, strategic advisory and private capital solutions. Headquartered in Charlotte, NC, with offices in Houston, TX, BlackArch features a total of 12 industry-focused practices that cover all sectors of interest to middle-market investors; BlackArch professionals have closed more than 300 transactions in 16 countries on four continents. Please visit our website, blackarchpartners.com, for more details.
Securities offered through BlackArch Securities LLC. Member FINRA and SIPC. Testimonials may not be representative of the experience of all clients. Testimonials are not a guarantee of future performance or success.