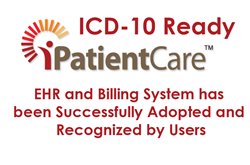 I am so happy with the fully committed support and training of ICD-10 Ready iPatientCare EHR and billing system. From a clinical standpoint, dual coding." - Julie Wiegand, Vice President of Medical Billing Services, AHIMA Approved ICD-10-CM/PCS Trainer
Woodbridge, NJ (PRWEB) May 26, 2015
iPatientCare, Inc., a pioneer in mHealth and cloud based ambulatory EHR, integrated Practice Management and Patient Portal solutions announced the successful implementation of its ICD-10 ready EHR and Practice Management System among its user base. It further announced the availability of the upgrade and related training/implementation assistance for a smooth transition to ICD-10 to those users who are yet to transition over to the ICD-10 ready version.
After two years' delay, it appears that decks are set for all HIPAA-covered healthcare entities to switch to the new code set by October 1, 2015, meaning that their EHR software and medical billing systems must be compliant to ICD-10 coding. Any claims submitted with ICD-9 codes for services provided on or after the October 1, 2105 will not be paid for. The transition to ICD-10 has a substantial impact on documentation of clinical care, physician productivity and practice reimbursement, and requires coordination between providers and their respective vendor.
"I am so happy with the fully committed support and training of ICD-10 Ready iPatientCare EHR and billing system. From a clinical standpoint, dual coding also helps us identify gaps in documentation, fine-tune CDI specialist activities, and update medical staff queries. Dual coding has helped us to prepare for ICD-10 and mitigate the risk of denied claims which I believe is a perfect requirement for any practice. Completely happy and satisfied with iPatientCare ICD-10 system!" said Julie Wiegand, Vice President of Medical Billing Services, AHIMA Approved ICD-10-CM/PCS Trainer, Health Services Associates.
"The transition to ICD-10 is a challenging process for all healthcare providers and their offices. iPatientCare's EHR and Billing System provides dual coding capabilities, and hence, our users do not have to wait until ICD-10 implementation deadline.", said Udayan Mandavia, President/CEO, iPatientCare. "Realizing the complexity of ICD-10 and the challenges faced by Providers in transiting from ICD-9 to ICD-10 coding, iPatientCare has invested substantially in developing intelligent software utilities that automate this transition. In fact, many of the new installations of iPatientCare are for the Providers who switched to iPatientCare because of its ICD-10 readiness and these fast-track utilities.", he added further.
iPatientCare system users will be channeled to send the appropriate format to payers, reducing unnecessary rejections and rework. The practices who are still to meet October 1 deadline successfully, iPatientCare provides them billing options that help providers to be with the latest agreement requirements, ensure clean claims, and increase practice revenue.
About iPatientCare:
iPatientCare, Inc. is a privately held medical informatics company based at Woodbridge, New Jersey. The company's unified product suite includes Electronic Health/Medical Record and integrated Practice Management/Billing System, Patient Portal/PHR, Health Information Exchange (HIE), and Mobile Point-of-Care Solutions for both Ambulatory and Acute/Sub-acute market segments. iPatientCare has been recognized as a preferred MU partner by numerous Regional Extension Centers (REC), hospitals/health systems and academies, and has been designated as a Test EHR by the CMS.
iPatientCare EHR 2014 (2.0) has received 2014 Edition Ambulatory Complete EHR certification by ICSA Labs, an Office of the National Coordinator-Authorized Certification Body (ONC-ACB), in accordance with the applicable eligible professional certification criteria adopted by the Secretary of Health and Human Services (HHS).
IPatientCare Inpatient EHR 2014 (2.0) Received ONC HIT 2014 Edition Complete EHR Certification from ICSA Labs, determines ability to support eligible hospitals with meeting meaningful use stage 1 and stage 2 measures required to qualify for ONC Health IT funding under the American Recovery and Reinvestment Act (ARRA).
The ONC 2014 Edition criteria support both Stage 1 and 2 Meaningful Use measures required to qualify eligible providers and hospitals for funding under the American Recovery and Reinvestment Act (ARRA).
Visit http://www.iPatientCare.com for more information.