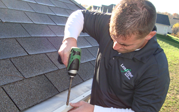 Hudson, Ohio (PRWEB) May 26, 2015
LeafFilter™, the #1 consumer rated gutter protection company, recently hit a new milestone. The gutter protection company installed a company record-breaking 20 million feet of gutter guards nationwide.
Originally, LeafFilter™ was a small business operation in Northeast Ohio, but has since expanded operations from one office in Akron to 25 locations spanning the East Coast, Midwest, Southern states, and even the Pacific Northwest. Most recently, the gutter protection company opened three new offices at the beginning of 2015 in Kentucky, Long Island, and Rochester, NY.
In April of this year, LeafFilter™ celebrated their 10 year Anniversary. Within the past ten years, the gutter guard company has managed to install more than 20 million feet of gutter guards and serve 90,000 homeowners across the country. LeafFilter™ Gutter Protection has worked endlessly to revolutionize the gutter guard industry with innovation, unrelenting work ethic, and outstanding customer service, which has contributed to the company's massive growth.
"Installing 20 million feet of gutter protection across the nation is a tremendous milestone for the company. I am proud to be leading such a hardworking and talented team that strives for perfection every day," said Matt Kaulig, President and Owner of LeafFilter™. "We are excited about what we have achieved and look forward to helping thousands of homeowners in the future protect their home with LeafFilter™."
Despite expansion, LeafFilter™ has always maintained the work ethic and outstanding customer service that made the company successful from the beginning. The company has received national awards and accolades for being a top exterior contractor and the best gutter guard system in the nation. LeafFilter™ Gutter Protection is looking forward to installing the next 20 million feet of gutter protection and helping to end clogged gutters for hundreds of thousands of more customers across the country.
About LeafFilter North, Inc.
LeafFilter's design features a surgical-grade, stainless steel micromesh gutter protection system. The openings within the stainless steel micromesh are specifically sized so that only water is channeled into the gutters. The gutter protection system prevents the headaches of having to deal with roof and structural foundation that clogged gutters can cause.
LeafFilter™ is the #1 rated gutter guard system by two leading consumer publications. Along with receiving recognition from top publications in the nation, Leaffilter has received thousands of positive reviews from homeowners. Read LeafFilter reviews from Trustpilot, our third party review site.
For more information about LeafFilter™ Gutter Guards, visit http://www.LeafFilter.com or call (800) 290-6106.