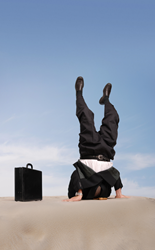 A fear of success might seem nonsensical and unusual, but it is actually quite common.
Montreal, Canada (PRWEB) May 23, 2015
Sports history is laden with examples of classic "chokes" or, as Twitter enthusiasts would put it, #FAILS. In the 1996 Masters tournament, Greg Norman lost a historical lead in six holes. In the 1984 French Open final, John McEnroe, still undefeated that season, took a commanding lead in the first sets – and then dropped the next five in one of the worst Grand Slam losses in history. Why is it that so many people who find themselves on the brink of success suddenly falter? Research by PsychTests indicates that individuals who fear success often find themselves "choking" at the most inopportune moments.
Collecting data from 4,149 people who took their Success Likelihood Test, researchers at PsychTests compared people who indicated that they are afraid to succeed to those who are not.
According to their statistics,

20% have the Imposter Syndrome – the belief that their accomplishments are a fluke, and that despite the recognition and admiration they receive, they are a fraud and will be found out eventually (compared to 5% for those who are not afraid to succeed).
24% believe that success would add more stress and worry to their life (compared to 7%).
28% worry that if they excelled at something, others would feel inferior (compared to 10%).
29% are concerned that if they became financially successful, people would only like them because of their money or only come to them when they needed cash (compared to 14%).
31% would be uncomfortable knowing that others were jealous of their success (compared to 15%).
33% do not like the idea of standing out because of their accomplishments (compared to 17%).
33% are worried that success will interfere with their social life (compared to 20%).
41% believe that being the best performer or being at the top of their field implies a heavy load of responsibility they don't want to carry (compared to 17%).
56% are afraid that taking pride in their accomplishments will make them appear arrogant or conceited (compared to 36%).
65% believe that success is a matter of fate, that it's about being at the right place at the right time – which means that they do not have full control over their ability to succeed (compared to 55%).
71% would feel humiliated if their success did not last and they ended up failing in the end (49%).
"A fear of success might seem nonsensical and unusual, but it is actually quite common," explains Dr. Jerabek, president of PsychTests. "In our sample, 39% of the people who fear success quit right before reaching a goal, 55% admit that they suddenly get nervous when they get close and start 'messing up', and 64% purposely downplay their achievements when around others."
"Right when they are on the brink of success, many of these individuals start to contemplate what will happen if they succeed. This introspection may start out as positive: 'My family will be so proud of me', 'I will have a more prestigious position', 'People will admire me.' Soon enough, however, the 'what ifs' start to dog them: 'What if my former colleagues start to resent me for getting a promotion because I am now their superior?' 'What if my friends become jealous of my success?' 'What if I get promoted and then they find out I don't really know what I'm doing?' In the end, they convince themselves that success is not all it it's cracked up to be and a self-fulfilling prophecy is created. They either subconsciously sabotage their efforts, or simply walk away from the opportunity that has been given to them."
Researchers at PsychTests offer the following tips for people who tend to avoid success:

Face your fears. Recognize your fear for what it really is. It could be a fear of the unknown, of rejection, or of being envied. Take the energy you are spending on worries and self-doubt and channel it. Grab a paper and pen and write out your fear. For example: "What would happen if I did get that promotion?" Once you've created a list of all the consequences of success that you're concerned about ("My former colleagues will resent me"), do a reality check with someone you trust. Discuss with him or her the likelihood of each consequence, and ways to avoid or overcome them. You may still be afraid, but now you know what scares you and how you can deal with it.
Rise to the occasion. Don't obsess about your ability to live up to expectations when offered a challenging assignment. You may have doubts about your abilities or be concerned that doing well on this project will mean that you'll always be the go-to person for these tough assignments. The person who assigned you the project, however, does not doubt your ability to rise to the occasion. He or she probably sees something in you that you are too humble to acknowledge. Don't pass up an opportunity just because you are afraid of the consequences. This is more than a chance to show others what you're capable of …it's a chance to prove it to yourself as well.
Don't forget who you are. Major success is often accompanied by the need to redefine yourself. This forced introspection can bring about anxiety. You may feel as though you don't fit in with "the successful crowd," but keep in mind (and keep reminding yourself) that you are just as talented and deserving of success as anyone else.
Remember, success comes from within. Aside from a fear of success, a lack of confidence in your abilities is another setback that can keep you from attaining success. Perhaps you feel like an imposter, and attribute past successes to luck. If you believe that without luck you don't have what it takes to sustain success, it's a good sign that you need to work on your self-esteem and self-confidence. A little luck may have helped you along the way, but it's your own hard work that got you there in the first place.
Forget the idea of a dog-eat-dog world. When you excel at something, you are setting standards not only for your own future performance, but also for the performance of others. What if your excellent work raises the bar for friends or colleagues? Will they despise you? This, despite the idea of the "dog-eat-dog" world, is generally not true. When handled with tact, your success may be a source of inspiration and encouragement to others.
Want to assess whether your likelihood for success? Go to http://testyourself.psychtests.com/testid/2138
Professional users of this assessment (therapists, life coaches and counselors) can request a free demo of the Success Likelihood Test or any other assessments from ARCH Profile's extensive battery: http://hrtests.archprofile.com/testdrive_gen_1
To learn more about psychological testing, download this free eBook: http://hrtests.archprofile.com/personality-tests-in-hr
About PsychTests.com
PsychTests.com is a subsidiary of PsychTests AIM Inc. PsychTests.com is a site that creates an interactive venue for self-exploration with a healthy dose of fun. The site offers a full range of professional-quality, scientifically validated psychological assessments that empower people to grow and reach their real potential through insightful feedback and detailed, custom-tailored analysis.
PsychTests AIM Inc. originally appeared on the internet scene in 1996. Since its inception, it has become a pre-eminent provider of psychological assessment products and services to human resource personnel, therapists, academics, researchers and a host of other professionals around the world. PsychTests AIM Inc. staff is comprised of a dedicated team of psychologists, test developers, researchers, statisticians, writers, and artificial intelligence experts (see ARCHProfile.com). The company's research division, Plumeus Inc., is supported in part by Research and Development Tax Credit awarded by Industry Canada.