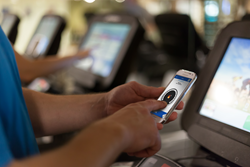 "Once paired with LFconnect, an exerciser will automatically have their workout information sent to their respective health apps, allowing for a complete representation of their cardio activity."
Rosemont, IL (PRWEB) May 26, 2015
The best and most convenient method of tracking your complete daily exercise may already be in your pocket. That's because Life Fitness, the global leader in commercial fitness, has updated its LFconnect mobile app to sync with the most popular built-in fitness mobile apps – Apple Health, Google Fit and Samsung S-Health – automatically transmitting data collected directly from Life Fitness cardio equipment.
This update, available now for download, empowers the millions of iPhone and Android users and exercisers who already have these built-in apps to continue to use their preferred method to monitor and track all of their fitness and health activity with the reassurance that it is receiving the most accurate and comprehensive data possible.
"Today's mobile devices already come with highly sophisticated health tracking apps – which only perform better when used in conjunction with LFconnect," said Amad Amin, senior product manager for technology and analytics at Life Fitness. "Once paired with LFconnect, an exerciser will automatically have their workout information sent to their respective health apps, allowing for a complete representation of their cardio activity."
LFconnect not only "pulls" workout data, but "pushes" data directly into the Apple Health, Google Fit and Samsung S-Health apps. After completing a workout on Life Fitness equipment, exercisers simply open the LFconnect app on their smartphone and scan the QR code displayed on Life Fitness connected cardio products.
Once synced with LFconnect, users of these apps will be able to track the following data from Life Fitness equipment:

Calories
Distance
Heart Rate
Life Fitness was the first fitness equipment manufacturer to open portions of its software API in 2012, allowing developers access so third-parties, including fitness facilities, can create applications that work directly with Life Fitness equipment. This unmatched access opens an entire world of possibilities for exercisers and facilities alike, including the ability for personal trainers to remotely access information and design specific workouts, or for facilities to create their own apps that offer rewards for achieving certain goals and metrics on Life Fitness equipment.
"Since creating the LFopen platform and launching the LFconnect mobile app, Life Fitness has continually released updates that enable integration and allow for greater personalization and customization," said Amin. "It's a win-win for exercisers, as it enhances the data collected by other apps, while allowing each person to store and access their health data exactly how they prefer with minimal effort."
Current LFconnect users simply need to install the latest update to gain access. For new users, this new capability is already included when downloading the LFconnect app.
For more information on LFconnect, as well as Life Fitness equipment and technology, visit http://www.lifefitness.com.
About Life Fitness
Life Fitness is the global leader in commercial fitness equipment, as well as game tables and furnishings. The company manufactures and sells its well-known strength and cardiovascular equipment under its Life Fitness and Hammer Strength brands. It also offers billiards tables, accessories and game room furniture under the iconic Brunswick Billiards brand. Life Fitness, Hammer Strength and Brunswick Billiards equipment is distributed to more than 120 countries. Headquartered outside Chicago, in Rosemont, Ill., the company is a division of Brunswick Corporation. For more information, visit http://www.lifefitness.com.