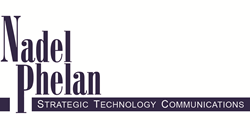 "We have a long history of success with Canadian companies"
Scotts Valley, Calif. (PRWEB) May 25, 2015
Nadel Phelan, Inc., a premier high-tech public relations and marketing firm, today announced the expansion of its international network with the opening of a new office in Canada. The strategic move strengthens the company's international presence and allows it to better engage with Canada's existing technology industry. Nadel Phelan vice president, Bob Petrovic, will lead the new office.

Proven results: Nadel Phelan has been active in Canada over the past decade and during that time has guided twelve companies through acquisitions, one over a billion dollars, and seven IPOs, including several on TSX.
Strategic worldwide reach: By aligning PR activities with the client's core strategy, Nadel Phelan is able to deliver tangible and measurable results that positively impact the bottom line. With the launch of a new office, Nadel Phelan will be able to provide a global reach for Canadian technology companies.
Paula Phelan, CEO, Nadel Phelan, said:
"We have a long history of success with Canadian companies and have seen considerable growth in the demand for strategic marketing and public relations as organizations in the region look to expand globally. Our office in Vancouver will provide us with an increased North American presence and reinforce our commitment to support new and existing relationships."
Bob Petrovic, Vice President, Nadel Phelan, said:
"I am delighted to join the Nadel Phelan team who represent the highest level of integrity and acumen. Our technical expertise, market knowledge, and industry relationships are unique in the industry and have consistently delivered positive results. I am looking forward to applying my background in telco, mobility, and software to grow our presence in Canada and to create new opportunities for Canadian high-tech companies."
About Nadel Phelan, Inc.
Nadel Phelan, Inc. specializes in comprehensive public relations and marketing for a roster of clients ranging from venerable industry giants to innovative startups. By combining high-level industry knowledge with in-depth technology experience, Nadel Phelan provides its clients with the strategic and tactical services necessary to establish and maintain global marketplace awareness essential in obtaining and preserving a competitive edge. Nadel Phelan is headquartered in Silicon Valley, California with offices in New York, Hong Kong, Tokyo, Vancouver and London. For more information please visit http://www.nadelphelan.com or call 831-439-5570.
###