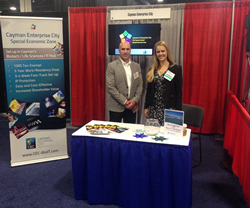 CEC truly considers strategic IP development to be a key benefit of operating in the zone.
George Town, Grand Cayman, Cayman Islands (PRWEB) May 25, 2015
Cayman Enterprise City (CEC) made a successful outreach to the biotechnology industry in the Boston area by attending two bio-based conferences and meeting members of the local legal community. CEC Business Development Manager Rachelle Peterson, with help from U.S. channel partner Ben Taylor of Intellectual Resources Corp (IRC), worked the crowd at the Bio-IT World Conference & Expo. IRC is a leading provider of strategic intellectual property advisory services and Taylor who helped set up the trip itinerary, was also on hand to help make the pitch for CEC.
"There was a lot of traffic and we definitely attracted attention, educating businesses, investors and researchers about the benefits the zone offers biotech companies," said Peterson. "IRC specializes in intellectual property so Ben was able to answer their questions about holding IP and patents offshore, so it was a great opportunity for Cayman Enterprise City."
"I think having IRC as a partner at the event helped prospective members see that CEC truly considers strategic IP development to be a key benefit of operating in the zone. This was a very relevant topic for attendees of the BIO-IT conference," said Ben Taylor.
"We thought the partnership approach worked quite well, as it provided some additional perspective in discussions, while also allowing time for each of us to get out and walk the floor to connect with other exhibitors."
More than 3,000 life sciences, pharmaceutical, clinical, healthcare, and IT professionals from 32 countries were at the busy Expo selling their wares and trading information. Peterson says the Biotechnology Innovation Forum held at the Westin Copley Place with tours of the Museum of Medical History and Innovation and the Ether Dome at Massachusetts General Hospital the following week focused on the latest news in research and development, and was attended by high-level executives and investors.
"I was really happy with the response CEC got at the forum and it was very advantageous that we were able to attend the first annual event," she said. "It's all about being connected to the appropriate people, the decision-makers and the ones influencing the financing of a research project."
Rachelle Peterson says this first Boston trip was a good learning experience that gave her valuable insights into the biotech market - primarily that people in the industry need to be educated about CEC and its benefits.
"It was interesting to watch people 'get' the CEC concept, when they fully realized the advantages they could have in registering their intellectual property and managing their developmental work in Grand Cayman early on so that when it comes to realizing the value of their product there are no tax implications for the companies or the investors."
Peterson will continue working with her channel partner to build the CEC brand in Boston. The plan is to reach out to companies, law firms, and venture capital firms to keep spreading the message: Cayman's jurisdiction is the perfect near-shore solution is they are looking to expand globally and the CEC zone facilitates easy, streamlined and cost-effective set-up.
"Boston is certainly one of top, if not the primary, tech / biotech hub(s) on the east coast," said Taylor. "We'd like to collaborate with Rachelle to promote CEC and establish regular discussions with influencers in this area."
A leading international financial center with a robust legal system under British Common Law, Cayman is a stable British Overseas Territory with a pro-business government. Cayman Enterprise City offers a fast-track business licensing and work/residency visa process with a number of licensing packages − from affordable one-person startups, to packages for larger companies needing to relocate several staff.
CEC's corporate relocation team facilitates the set up process so companies can quickly and cost-effectively establish mind and management in Cayman. Zone clients take advantage of the jurisdiction's tax-free environment, allowing them to be more competitive in the global marketplace. CEC clients can generate tax-exempt active business income in the Cayman Islands, and they also enjoy 100% exemption from corporate, capital gains and sales taxes, and offshore intellectual property.
Cayman Enterprise City has established a vast worldwide network of channel partners, like Intellectual Resources Corp, in its aggressive marketing effort to expand the zone's reach in vital markets. The Cayman government granted the zone concessions to draw international companies from six high-tech sectors; Internet and technology, media and marketing, biotechnology, commodities and derivatives, academia and maritime services.
Among the benefits offered by Cayman Enterprise City is proximity to the US - Cayman is an hour's flight from Miami and 3 ½ hours from New York City. Cayman is a safe, upscale destination that offers a great lifestyle with excellent schools, world-class restaurants and medical facilities. The island is also in the Eastern Time Zone making it an excellent near-shore destination for doing business.
About Cayman Enterprise City
Cayman Enterprise City is an award-winning Special Economic Zone located in the Cayman Islands, focused on knowledge-based industries, technology companies and specialized services businesses. With a dedicated Government Authority and guaranteed fast-track processes, international companies can quickly and efficiently establish a genuine physical presence in the Cayman Islands. This enables businesses take advantage of Cayman's jurisdictional benefits which include exemption from corporate tax, income tax and capital gains tax, along with a raft of special zone concessions and incentives. These concessions were designed to attract international companies from five specific high-tech sectors; internet and technology, media and new-media ventures, biotechnology and life sciences, commodities and derivatives and the maritimeindustry.
FOR MORE INFORMATION:
Call: 1-345-945-3722
E-mail: h.cahill(at)caymanenterprisecity(dot)com
Web: http://www.caymanenterprisecity.com
LinkedIn: Cayman Enterprise City
Facebook: http://www.facebook.com/caymanenterprisecity
Twitter: @CEC_Cayman