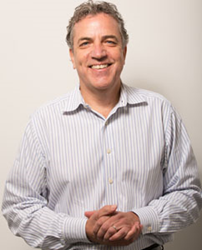 It is indeed quite an honor to win this award. It is very humbling to be placed along such a great group of scholars.
Claremont, California (PRWEB) May 22, 2015
Bernie Jaworski, the Peter F. Drucker Chair in Management and the Liberal Arts at Claremont Graduate University's Drucker School of Management, has received a lifetime achievement award from the American Marketing Association (AMA).
The 2015 Mahajan Award from the AMA's Marketing Strategy Special Interest Group honors Jaworski for his leadership and career impact on marketing strategy research and practice.
"It is indeed quite an honor to receive this award," Jaworski said. "It is vey humbling to be placed along such a great group of scholars. Upon reflection, I am most proud of the balance I tried to attain between the right level of scientific rigor and deep managerial relevance."
The AMA's announcement praised Jaworski as one of the country's most highly cited and influential marketing scholars. Jaworski's three main articles on market orientation have been cited more than 15,000 times and have led to a stream of other research from academics around the world.
"With this year's Mahajan Award he is recognized for the significant and enduring impact of his seminal work on market orientation and marketing control, the impact of his marketing strategy education on practice, and his continuing research contributions and leadership in the educational institution context," the AMA said in a written statement.
Marketing Professor Jenny Darroch, who serves with Jaworski on the Drucker School faculty, said marketing students around the world have been influenced by Jaworski's work. But perhaps more significantly, his research continues to break new ground in marketing strategy and practice, she said.
"The Mahajan Award is well-deserved and cements Bernie's position as a thought leader," Darroch said.
The AMA will present Jaworski with the award at its annual meeting in Chicago in August. The 16th winner of the award, he was selected by a committee of leading research scholars in marketing strategy, including some past winners.
Jaworski came to the Drucker School in 2011 from the Switzerland-based IMD international business school. Prior to working at IMD, he spent a decade as a senior partner of the Monitor Group, a global management consulting firm.
From 1996 to 1999, Jaworski served as the Jeanne and David Tappan Marketing Fellow and a tenured full professor of marketing at the University of Southern California, where he ranked as one of the top five marketing scholars based on number of publications and citations. He has also served on the faculty at the University of Arizona and as a visiting professor at Harvard Business School, as well as on the review boards of the Journal of Marketing and the Journal of Marketing Research. He is the co-author four textbooks on e-commerce and has taught topics including leadership, corporate strategy, and service management.
Previous winners of the Mahajan award include: David Aaker, George Day, David Montgomery, Rajan Varadarajan, Raj Srivastava, Frederick Webster, Gerry Tellis, V. Kumar, and Christine Moorman.
About the Drucker School
The Peter F. Drucker and Masatoshi Ito Graduate School of Management at Claremont Graduate University offers a variety of professional and doctoral degrees, including MBA, EMBA, and the MS in Financial Engineering. It has expanded the traditional path in business education, offering innovative programs, such as the MA in Arts Management, an MA in Politics, Business, and Economics, and its focus on management for creative industries. Named for the father of modern business management education and world-renowned author and consultant, Peter Drucker, and accomplished global business leader and philanthropist, Masatoshi Ito, the school produces graduates who have a strong sense of social responsibility and a deep desire to make a difference by doing well while also doing good.