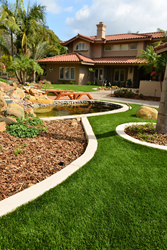 Our phones are ringing off the hook.
San Diego, California (PRWEB) June 16, 2015
Recently-implemented mandatory water restrictions in drought-ravaged California have imposed strict usage laws on residents, including limiting outdoor irrigation and watering to three times per week, according to 10news. Overall, San Diegans will be required to reduce their total water usage by at least 20 percent.
"With the majority of residential water used for landscaping, these cutbacks are probably going to hit homeowner's lawns the hardest. People are not likely to reach the high reduction targets merely by taking shorter showers or doing less laundry," commented David Hartman, President of EasyTurf.
"Saving water and reducing watering costs used to be mere bonuses of installing synthetic grass landscaping. Now, installing synthetic grass is virtually the only means to a usable and realistic green lawn. The alternative is desert landscaping like you see in Arizona, which is not a viable option for homeowners who desire to have both an attractive and functional space."
"EasyTurf has been the leading brand of synthetic grass in Southern California for the past 15 years. Since the announcement of the water restrictions, people have been contacting us nonstop in search of more information about installing an EasyTurf lawn. Our phones are ringing off the hook," said Hartman.
The rapidly rising cost of water combined with the restrictions and potential usage-related fines means that there has never been a better time to switch to an artificial lawn. Several different financing options are available for those who qualify.
"We are experiencing unprecedented call volumes," stated Hartman. "Please be patient. The reason that we are so busy is that we offer the very best products and service. Quality is worth waiting for."
About EasyTurf:
EasyTurf is Southern California's largest synthetic grass and putting green company and is the exclusive supplier of FieldTurf. EasyTurf has an impressive portfolio of installations including SeaWorld, LEGOLAND, PETCO Park, The San Diego Zoo, The San Diego Humane Society, Camp Pendleton and over 15,000 residential and commercial installations.
These customers selected EasyTurf due to the turf's realistic look and feel, superior drainage capability and long life expectancy, which is backed by the industry best 15-year warranty. EasyTurf: the only solution for those seeking top-quality, high-performance synthetic grass landscaping.