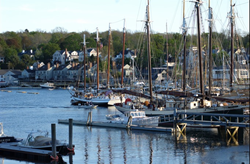 "B&B travelers are looking for hidden gems and inns that off the beaten path," says Matt Laessig, general manager of BedandBreakfast.com.
Austin, TX (PRWEB) May 26, 2015
When it comes to hot, new B&B destinations, travelers are looking at Europe and South America as well as exploring under-the-radar towns across America. Topping the list of 15 cities experiencing the highest traffic growth* on BedandBreakfast.com since last year is Rio de Janeiro – host of the 2016 Summer Olympics.
Amsterdam, Milan and Galway City, Ireland, round out the list of hot new international destinations. In North America, smaller towns are among the most popular new B&B destinations:

Jackson, New Hampshire
Berlin, Ohio
Woodstock, N.Y.
Camden, Maine
Volcano, Hawaii
Pittsburgh, Penn.
Dahlonega, Ga.
Ojai, Calif.
Denver
Branson, Mo.
Niagra-on-the-Lake, Ontario, Canada
"B&B travelers regularly seek out interesting B&Bs and inns that offer character and something out of the ordinary," says Matt Laessig, general manager of BedandBreakfast.com. "Our research shows they are also looking for hidden gems and inns that are off the beaten path."
With the strong U.S. dollar, it's no surprise to see European cities among the more popular summer destinations, Laessig says. In North America, travelers are seeking retreats away from the hustle and bustle of their daily lives.
About a three-hour drive from Boston, Camden joins Bar Harbor and Nantucket as a favorite summer destination in the Northeast.
"Camden is where the 'mountains meet the sea' and as one Italian magazine described it, the 'Portofino of Maine,'" says Claudio Latanza with the Camden Maine Stay Inn, a BedandBreakfast.com Diamond Collection™ inn.
Laessig says more than 40 percent of B&B travelers look to plan a weekend trip just to get away, while nearly two-thirds will celebrate a special occasion such as anniversary or birthday.
Interestingly, according to BedandBreakfast.com's Annual Travel Trends Survey**, more than two-thirds of B&B travelers choose a different bed and breakfast in a destination they have visited before for new and different experiences.
An overwhelming 80 percent of B&B travelers are looking for value and will stay in affordable accommodations for their weekend getaway. BedandBreakfast.com's Laessig points out that bed and breakfasts offer great value given that breakfast, onsite parking, Internet, refreshments and snacks are usually provided at no additional charge.
The top five in-room amenities B&B travelers want: distinctive rooms, free high-speed wireless Internet, in-room refrigerator, flat screen HD TV, and luxury linens. The top general amenities travelers want are afternoon refreshments, online reservations, individual dining options, and a stocked pantry.
###

Most popular, new B&B destinations based on an analysis of traffic on the BedandBreakfast.com city pages from Q1 2014 to Q1 2015.
** BedandBreakfast.com online survey of more than 900 B&B travelers conducted from March-April 2015.
About BedandBreakfast.com
BedandBreakfast.com, based in Austin, Texas, is the most comprehensive global site for finding bed and breakfast properties, with more than 10,000 properties worldwide, representing nearly 75,000 rooms. BedandBreakfast.com helps travelers find and book the ideal B&B or small inn through informative descriptions, photos, and more than 300,000 consumer reviews. BedandBreakfast.com offers convenient gift cards welcomed at more than 4,000 B&Bs in the United States and Canada, with no restrictions or blackout dates. BedandBreakfast.com is owned and operated by HomeAway, Inc., the worldwide leader in online vacation rentals, representing over one million paid listings of vacation rental homes in 190 countries.