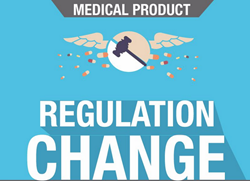 It is time to revamp our regulatory systems for bringing medical products to the market—OOBR can solve this problem
San Diego, CA (PRWEB) May 27, 2015
Wireless-Life Sciences Alliance (WLSA), a leader in connecting all sectors of the life sciences and technology for progressive solutions to health problems, introduces their Open Outcomes Based Regulation (OOBR) initiative at their 10th Annual Convergence Summit on May 27th, 2015.
OOBR strives to change the current FDA process for reviewing and approving most medical products. The current FDA review for drugs process can take up to 15 years to successfully complete before the drug is approved and placed on the market. OOBR aims to leverage all the technologies available to gather safety and efficacy information from patients to create a shorter, more efficient drug approval process that eliminates many randomized clinical trials and replaces them with continuous real market data gathering and analysis.
"Why is it that cars get safer, more comfortable, more efficient, and more affordable over time while medical products do just the opposite?" asks Robert McCray, President & Chief Executive Officer at WLSA, "It is time to revamp our regulatory systems for bringing medical products to the market—OOBR can solve this problem."
In addition to accelerating the availability of promising drugs and devices, the OOBR development process for medical products will make patient engagement an essential component of the product. OOBR is based on the principle that the best source for determination of the safety and efficacy of most medical products, and for their improvement, is through continuous evaluation that includes reporting, analysis, and modification. WLSA believes that opening up this evaluation process would give scientists access to real world data about the efficacy and results of a specific product. In turn, that data would be used to continuously improve the medical products we have available on the market and enable patients and doctors to make the best informed decisions about which drugs and devices to use.
"Software and medical knowledge changes quickly, yet the current regulatory process moves slowly. This mismatch endangers people's lives and pocketbooks," states Robert McCray "We need to move to a 21st century model for medical product development and regulation, which is why OOBR suggests we use 21st century tools to manage medical products."
About Wireless-Life Sciences Alliance
Wireless-Life Sciences Alliance sets the framework for progressive discussions about the role of technology in health. WLSA brings together knowledge and points of view from communications technologies, consumers, caregivers, and the life sciences to address ways in which wireless technology can benefit health on a global scale. WLSA hosts two annual healthcare events, the Convergence Summit (May) and the Wireless Health Conference (October). To learn more about the company's mission, initiatives, and events, visit wirelesslifesciences.org or call (858)227-9409.