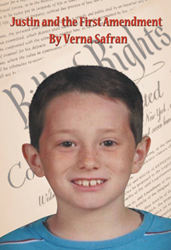 ...very few know what their rights are as guaranteed in the Constitution.
SARASOTA, Fla (PRWEB) May 26, 2015
In tutoring middle-school kids, Verna Safran has found that very few know what their rights are as guaranteed in the Constitution. Her new book entitled "Justin and the First Amendent" explores civil liberties such as freedom of speech and freedom of the press and shows how the Bill of Rights works to protect every citizen.
The story begins when Justin, whose dad is in the armed service, wears a peace T-shirt to school and gets suspended. Justin's friends rally around him, but get in trouble for signing a petition and publishing a pro-Justin article in the school paper. With a lovable main character and complete with humor and heart, this book is a great tool for parents and teachers to open dialog with their children about a potentially difficult topic in an entertaining way.
Ms. Safran taught English and History in middle school and high school and has worked as a freelance journalist, writing articles on health, civil liberties and women's issues that have been published in national magazines. She is currently on the board of the local chapter of the American Civil Liberties Union. Originally from New York, Ms. Safran is now retired in Sarasota, where she helps organize current events forums and is an actress/director/playwright with the Asolo Play Readers.
The author of three musical shows for children, which have been profesionally produced, ("The Prince and the Pauper," "Hiawatha," and "The Legend of Paul Bunyan") Ms. Safran has also had stories and poems published in Highlights, Ladybug, and The Readers Digest Educational Series. She is looking forward to doing a book tour of schools, churches, and community groups, so she can present her ideas directly to young citizens, helping them make responsible decisions in the future.
"Justin and the First Amendment"
By Verna Safran
ISBN: 978-1-4817-7344-7
Available in softcover ($13.95) and e-book ($3.99)
Available on Amazon, Barnes & Noble and AuthorHouse.
FOR IMMEDIATE RELEASE
For review copies or interview requests contact:
Daniel Pearson
317-602-7137
dpearson(at)bohlsengroup(dot)com