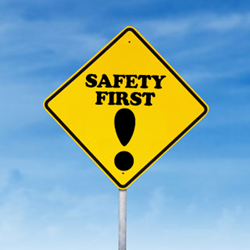 Custom labels and stickers are an affordable and effective way of drawing people's attention to safety issues
Denver, CO (PRWEB) May 28, 2015
June is National Safety Month, a.k.a. the perfect time for deploying custom labels to encourage caution and reduce accidents at work, on the road, at home and in local communities.
"Custom labels and stickers are an affordable and effective way of drawing people's attention to safety issues," noted Scott Proctor, vice president of sales at Lightning Labels. "The simple act of displaying an informative, instructional or cautionary label can boost awareness, mitigate injury and even save lives."
Deploy Stickers and Labels to Address National Safety Month Areas of Focus
Every year, the National Safety Council selects several topics on which to focus during National Safety Month. In 2015, these include transportation safety, emergency preparedness and slip, trip and fall prevention. Here's how custom labels and stickers can help raise awareness of these issues.

Transportation safety: Whether individuals choose to get around by bus, train, car or bike, it's important that the operators of these vehicles know what they're doing. Stickers and labels that clearly identify different driving tools and mechanisms can go a long way in terms of mitigating confusion and ensuring safety.
Emergency preparedness: Training is a vital part of emergency preparedness, but in tense situations, people may forget the things they learned. This is where labels and stickers come in. Displaying step-by-step instructions in highly visible areas can be immensely helpful when an emergency strikes.
Slip, trip and fall prevention: Icy, greasy or wet surfaces, uneven ground and steps that seem to come out of nowhere cause slips, trips and falls every day - often when people least expect it. Warning stickers and labels can help remove the element of surprise.
Quality: An Imperative Component of Safety Stickers and Labels
Stickers that are faded, torn, illegible or otherwise compromised can result in important information failing to get across to the target audience. To ensure safety labels are easy to read, long-lasting and able to withstand exposure to substances like oil and water, look no further than Lightning Labels to fulfill all your printing needs. Anyone eager to get a jump on June and kick off National Safety Month with brand new labeling will be glad to hear that Lightning Labels can process orders lightning fast.
About Lightning Labels:
Lightning Labels uses state-of-the-art printing technology to provide affordable, full-color custom labels and custom stickers of all shapes and sizes. From small orders for individuals to the bulk needs of big businesses, Lightning Labels is equipped to handle and fulfill custom label and sticker projects of all types. Best of all, like the name implies, Lightning Labels provides a quick turnaround for every customer's labeling needs. Uses for Lightning Labels' custom product labels and custom stickers include food packaging and organic food labels, wine and beverage labels, bath and body labels, and nutraceutical products, such as vitamins, essentials oils, and herbal remedies, as well as event stickers, adhesive window stickers and more. Lightning Labels strongly supports the development of environmentally friendly printing materials and carries EarthFirst PLA, a new kind of green label material made from corn instead of petroleum. While operating as a high-tech printer, Lighting Labels prides itself on its personalized customer service. Lightning Labels provides one stop shopping for all of your custom label needs. For more information and to place orders online, visit LightningLabels.com. For the latest in packaging news and labeling promotional offers, find Lightning Labels on Twitter (@LightningLabels), Facebook, Pinterest, Google and LinkedIn.